Mick Strider Custom RC Liner-Lock Folding Knife, Nightmare Grind (SOLD)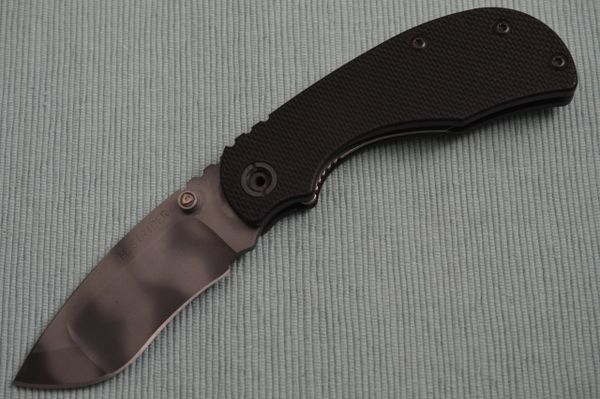 Mick Strider Custom RC Liner-Lock Folding Knife, Nightmare Grind (SOLD)
This liner-lock Custom RC by Mick Strider features a recurve Tiger Striped S30V blade with a compound nightmare grind, dual thumbstuds with Tritium inserts and a notched thumbrest on both the blade spine and top of the handle.  The handle is textured black G10 scales.  The tip-up mounted pocket clip is anodized with a flamed finish, and there is a full, solid backspacer.  The knife dates to approximately 2008.  It is stamped "M. STRIDER" on the flat of the presentation side of the blade.  The model designation is RCC DGG.  The knife has solid lock-up - no wobble or blade play in any direction - and easy lock release due to the notches on the liner.  The blade sits very close to center when closed.  This knife was previously owned and is in excellent condition. No marks on the blade or clip.  Handle shows little to no handling.  It comes in a padded zippered case.
Condition: 
Previously owned. Excellent
                    Never used or sharpened. May have been carried in the past 14 years
Overall length:    8 1/4"

Blade length:      3 1/2"

Closed length:    4 3/4"