Mick Strider Custom STUBBY, Nightmare Grind Tanto, Frame-Lock Folder (SOLD)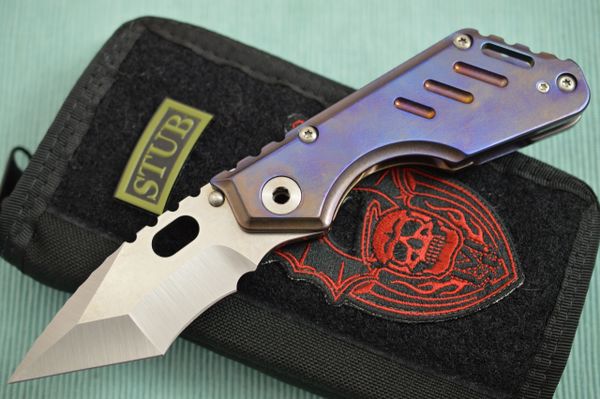 Mick Strider Custom STUBBY, Nightmare Grind Tanto, Frame-Lock Folder (SOLD)
This Mick Strider Custom frame-lock Stubby features a Nightmare Ground Tanto blade, thick milled and anodized full titanium frame, and a polished titanium open pivot.  The matching highly polished standoffs, lock-bar stabilizer and hardware are all titanium.  The pocket clip has the "MSC" logo, and is set for tip-up carry.  The blade is signed "M. Strider" in the finger choil.  I believe that the jimping that runs the length of the blade spine, beyond the thumb notches, may be referred to as "Dragon Spine".  The knife exhibits beautiful action - it opens smoothly and effortlessly with your thumb using the oval hole.  The blade locks up rock solid, sits perfectly centered in the frame when closed, and there is no lock stick.  This knife was previously owned, and is in Mint Condition.  It comes with a large, black Cordura-type padded zippered case, with two (2) patches on the outside - "STUB" and the batwing skull.
Condition: 
Previously owned, Mint Condition
                    Never used, carried or sharpened
Overall length:    7 3/4"

Blade length:      3 1/4"

Closed length:    4 1/2"