Mick Strider SJ75 "Sky Juice" Full Stealth Custom Folder (SOLD)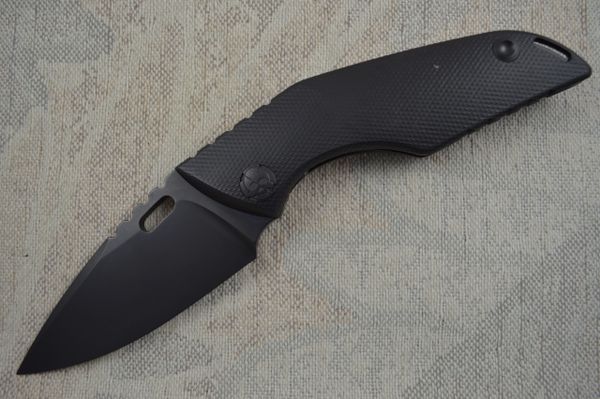 Mick Strider SJ75 "Sky Juice" Full Stealth Custom Folder (SOLD)
From Mick's website:
A long time in the making, the arrival of the SJ75 series of folders in 2012, twenty years after he initially embarked on his knife making career, again broke new ground. The SJ75 has a whole host of unique features that are both profound and subtle simultaneously. Not content to rest on the successful features of the previous folders, Mick created an entirely new pivot system for the SJ75; he increased its internal strength using revised stop pins; the popular but inelegant disc to prevent overflex on the lockbar was replaced with the simplicity of a 45 degree angle cut on the bar itself; and, the very manner in which the blade is presented was revised by changing the handle angle echoing the poignard. Most impressively, the knife accomplishes all this in a deceptively simple design.
Over all construction is of 6AL4V Titanium. All components except for blade, clip screw, pivot nut and bearings are Titanium. The clip screw and pivot nut are stainless.
SJ75 knives are constructed using only two fasteners. The Pivot and clip screw. The pivot on the SJ75 is a solid .200" titanium bolt. The skull is contoured into the bolt head. The contour matches that of the knife surface.
The Pivot Bolt is press fit into the non locking side of the knife. Both the Pivot Bolt and Pivot Nut are indexed into a double counter bore to insure accuracy.
This pivot system uses a precision inner bushing to keep the blade at the exact correct tension. There is no adjusting the pivot. (this isn't new, just the way I do it is).
The bump stops are massive, .187" Ti. There is an open and a closed stop. The two stop pins add strength and rigidity to the knife.
The scales are made of 6AL4V Titanium, which has been stress relieved, flattened, and double disk ground to +/- .002".
The 3D contouring is inclusive to the entire outer surface of the scales, including the lock web.
The lock slot is cut using Wire EDM. Its cut at a 45 degree angle, rather than a 90. This keeps the lock bar from over opening without the use of the Hinderer disk.
The lock has a "Half Cock" feature that keeps it from closing on your hand in a one handed closing situation. The detent ball acts as a stop when closing the blade with one hand.
The Full Stealth has a Chromium Nitride coated blade and Titanium parts.
Note:
Chromium Nitride coated blades are zero ground before coating. Then sharpened on one side to maintain the RC85 cutting surface of the Chromium Nitride. Pay attention when re sharpening your blade to insure proper edge geometry.
Condition:
Previously owned. Mint
Never used, carried, or sharpened.
Overall length: 9 1/4"
Blade length: 4"
Closed length: 6"