Mike Ruth, J.S. Stag Hunting Knife (SOLD)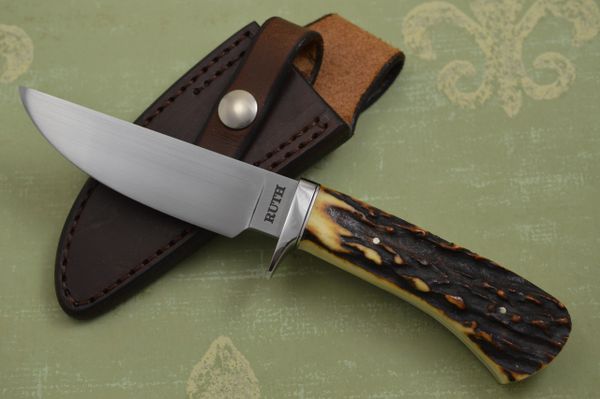 Mike Ruth, J.S. Stag Hunting Knife (SOLD)
Mike Ruth earned his ABS Journeyman Smith in 2003.  Since then he has been building Mastersmith quality knives.  This hunting knife is indicative of Mike's outstanding work, and his attention to design, detail, and fit and finish.  Great ergonomics and balance - the perfect combination.  Mike forged the blade from 5160 steel, and built the knife of hidden tang construction.  The single finger guard and pins are made from 416 stainless steel.  And the handle is two beautiful stag scales, with outstanding color and texture.  This one makes you want to put it on your belt and go out into the field.  The knife is in previously owned, mint condition.  It has never been used, carried or sharpened.  Comes with a Kenny Rowe leather belt sheath with keeper strap.
Condition: 
Previously owned. Mint condition
                    Never used, carried or sharpened
Overall length:      8 1/2"

Blade length:        4 1/4"
Handle length:      5 1/4"