Mikkel Willumsen Urban Tactical Custom CWC, IKBS (SOLD)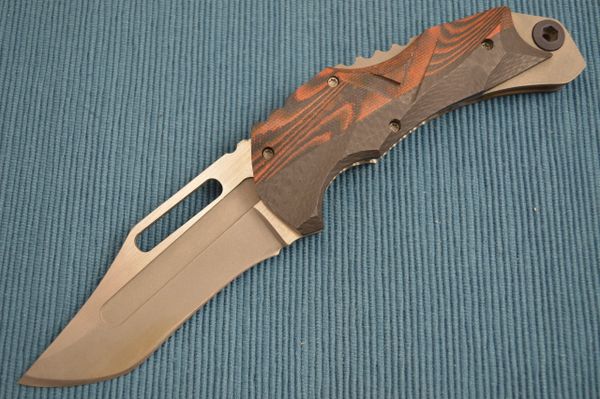 Mikkel Willumsen Urban Tactical Custom CWC, IKBS (SOLD)
I purchased this custom CWC (Camp Willumsen Commander) directly from Mikkel Willumsen at a Blade Show a few years ago.  Can't remember exactly when, as after nearly 15 years, they all seem to run together.  This knife was made before he started making his mid-tech line, so it is a full custom.  It was also made before he started making his knives with flippers.  However, it does have IKBS, so it essentially "flips" with a flick of your thumb on the elongated thumb hole.  It is smooth and quick.  The blade is CPM-154 steel, with a multi-grind and two-tone finish.  There is a fuller (or blood groove) running a good portion of the blade, below the thumb hole.  The blade is marked with his earlier logo, and Urban Tactical mark.  This is a frame-lock design, and the frame is made of heat treated titanium.  The presentation side has a scale of Orange / Black G10 on the top half and Carbon Fiber on the lower half.  It has rock solid lockup, and excellent blade-seating - that little dark spot at the tip of the blade has always been there.  It has well-placed jimping on the frame and back of the blade, giving it a firm and secure grip.  I carried it a couple or three times - never used it to cut anything.  There is a small shiny spot on the arch of the clip as a result.  It will ship in a padded, zippered case.
Condition:  Previously owned.  Excellent condition.
                   Never used or sharpened.
Overall length:   8 1/4"




Blade length:     3 3/4"




Closed length:   4 1/2"