Olamic Cutlery Custom "Wayfarer Harpoon" Liner-Lock Flipper, Ironwood Burl (SOLD)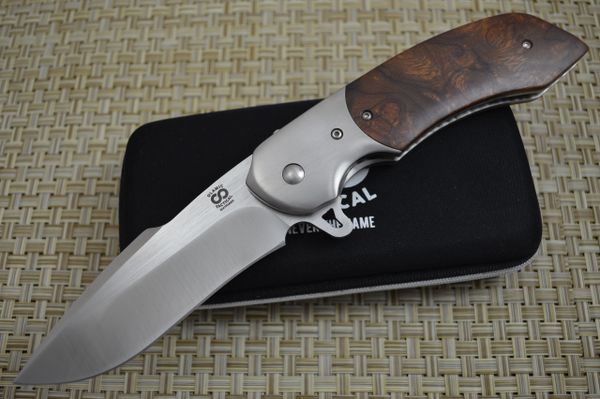 Olamic Cutlery Custom "Wayfarer Harpoon" Liner-Lock Flipper, Ironwood Burl (SOLD)
Olamic Cutlery is a family run business, started in 2010 with the goal of making usable, custom, handmade knives at a fair price - and that's exactly what they have accomplished! The knives are made from the best materials, and display excellent fit and finish. Whether you are a collector or a user, they are built to meet your needs. The flipping action is smooth as silk, they lock up like a bank vault, and the lock is easy to release. Windy City Knives is privileged to be a dealer for Olamic, and is proud to offer their knives.
Brand New and direct from Eugene Solomonik at Olamic Tactical is this full-size Custom "Wayfarer Harpoon", or as Eugene calls it, the "Poonfarer". The Harpoon is one of three (3) new blade shapes that Eugene has recently introduced, along with the "Sheepscliffe" and the "Tanto". It comes in a rigid zippered Olamic Tactical zippered case for storage. This liner-lock Wayfarer Harpoon flipper is built based on the designs of Mastersmith Michael Vagnino. This is Serial No. W955. It features a S30V satin finished blade, curved titanium bolsters, matching titanium clip, titanium liners, file-work along the back-spacers, and beautifully matched and figured Ironwood Burl scales. The blade runs on caged bearings, and exhibits great flipping action - no wrist movement - great detent, solid lock-up and excellent blade seating. This is a great custom, at a great price. One you'll want to carry. Please note that there is no COA with this knife. Eugene ran out of blank COAs. We will mail it to you, once we have received it. We apologize for any inconvenience.
Condition: Brand New From Maker.
• Overall length: 9 1/2"
• Blade length: 4 1/4"
• Closed length: 5 1/4"