Olamic Cutlery Wayfarer 247 Molten Titanium, Faux Orange Peel Bolster, PVD Blade (SOLD)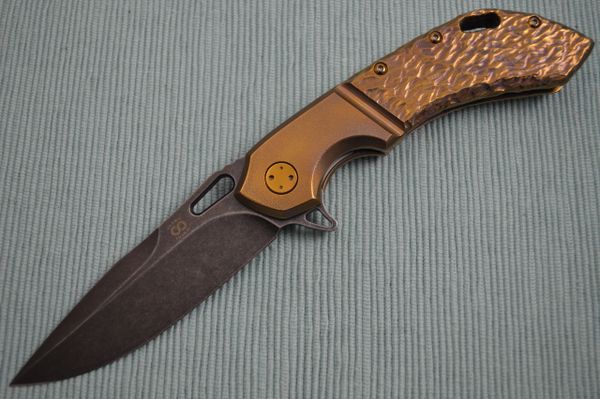 Olamic Cutlery Wayfarer 247 Molten Titanium, Faux Orange Peel Bolster, PVD Blade (SOLD)
Olamic Cutlery is a family run business, started in 2010 with the goal of making usable, custom, handmade knives at a fair price - and that's exactly what they have accomplished!  The knives are made from the best materials, and display excellent fit and finish.  Whether you are a collector or a user, they are built to meet your needs.  The flipping action is smooth as silk, they lock up like a bank vault, and the lock is easy to release.  Windy City Knives is privileged to be a dealer for Olamic, and is proud to offer their knives.
Brand New and direct from Eugene Solomonik at Olamic Tactical is this unique Wayfarer 247 flipper.  The handle / frame is titanium, with a very cool molten finish, and a faux bolster with orange peel texture.  The gold colors give it a real look of "pocket jewelry".  The blade is M390 steel, with a PVD stonewashed finish.  The pocket clip is titanium, also with a molten finish and an inlaid ball.  All the hardware is also titanium and anodized.  And the backspacer is titanium, with a molten finish, as well.  The blade runs on caged bearings, and exhibits great flipping action - no wrist movement - excellent detent, solid lock-up, and perfect blade seating.  It comes in a rigid, zippered Olamic Tactical case for storage, along with a pivot adjustment tool and Certificate of Authenticity.  
Condition:  Brand New From Maker.
•           Overall length:  8 1/8"
•           Blade length:    3 1/2" (cutting edge)
•           Closed length:  4 3/4"