Pat Crawford Tanto Neck Knife (SOLD)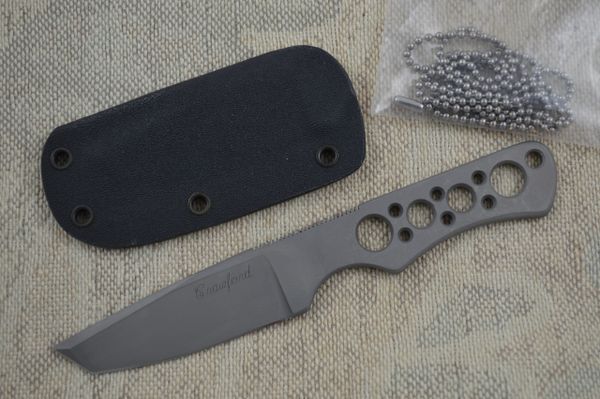 Pat Crawford Tanto Neck Knife (SOLD)
Pat Crawford and his son Wes, and their company, Crawford Knives are located in West Memphis, Arkansas. Pat was one of the innovators of combat knives. He has been a member of the Knifemakers' Guild since 1973. He was one of the first makers to "skeletonize" to reduce weight and enhance grip. Crawford Knives specializes in tactical folders, fixed blade knives, and art knives. Their knife designs are both classic and unique, and always functional.
The Tanto Neck Knife is a perfect example of Pat skeletonized handle with a bead blasted finish. You hardly know it is hanging around your neck. It comes with a Kydex sheath and stainless bead chain. It is one piece steel construction with bead blasted finish. It weighs a mere 1.7 ounces by itself, and 2.7 ounces in the sheath.
Condition:
Previously owned.
Never carried, used, or sharpened.
It has been in the sheath, so there are some minor Kydex marks.
Overall length: 6 1/2"
Blade length: 3"