Ralph Bone 16" Bowie Knife (SOLD)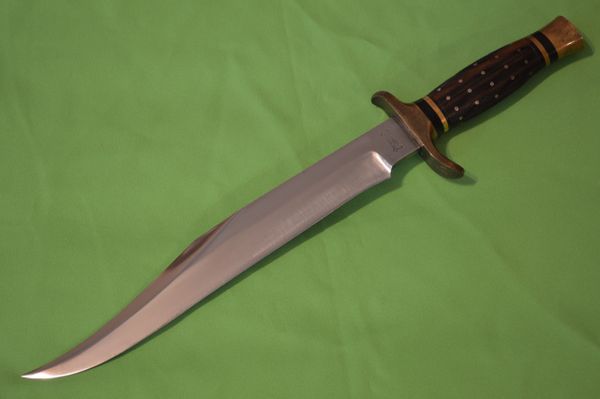 Ralph Bone 16" Bowie Knife (SOLD)
Ralph Bone was best known as a custom knife maker, for the first one half of his life, and, later, as a custom gun maker and highly innovative master engraver, which latter profession he pursued until his death.  Bone also tutored Enedino De Leon, who Bone acclaimed as his favorite knife maker.  De Leon commenced his knife making career, as a young man, and became very famous and talented maker in his own right.  De Leon perpetuated Bone's knife making legacy for fifty years, until De Leon's own death.
This is one of Ralph Bone's large Bowies.  The blade is an unknown steel, perhaps a tool steel.  The clip (top edge) is as sharp as the blade for about 4" from the tip.  The handle appears to be Cocobolo wood.  The Cocobolo is expertly "checkered" with many decorative brass pins.  The "S" shaped guard and butt cap are also brass.  There are also brass and black material spacers fore and aft of the Cocobolo.  In addition, the guard is beautifully engraved - presumably by master engraver Ralph Bone - with lots of scroll work on all sides.  Stamped on one side of the blade ricasso is "BONE LUBBOCK, TEX" inside the outline of a dog bone, and on the other side of the ricasso is stamped "MB 111".  The knife came out of a private collection.  Overall, it is in excellent condition.  There are some micro scratches on the blade, and the brass has developed a patina.  I see no carbon spotting or pitting of the blade.  It appears to have never been carried, used or sharpened.  There is no sheath.  It will come securely packed in a padded zippered case.

Condition:  Previously owned. Excellent.
                    Never used, carried, or sharpened.

Overall length:   16"
Blade length:     11"
Handle length:    5"