Rare Ray Laconico FOSSMINE Frame Lock Flipper, D2 Blade and Titanium Scales (SOLD)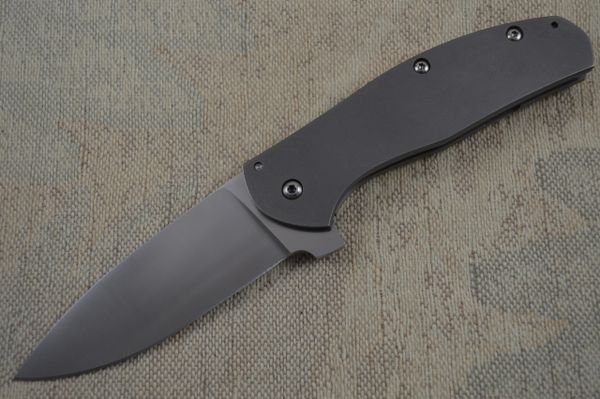 Rare Ray Laconico FOSSMINE Frame Lock Flipper, D2 Blade and Titanium Scales (SOLD)
Rare and hard to come-by, Ray Laconico Fossmine frame-lock flipper. Ray did not make many of this model. The knife features a satin D2 steel blade, stonewashed titanium scales, and notched back-spacer. The blade flips on GTC 440C stainless steel thrust ball bearings caged in stainless steel retainers. This amazingly smooth flipper system was developed by Gustavo T. Cecchini's GTC Knives. It flips effortlessly. One of the smoothest flippers we've handled - all index finger - no wrist action needed. Ray marked this knife "R. Laconico" on the rear of the blade spine, keeping the blade surfaces clean and giving the knife a sterile look. The blade locks up tight when opened, with no play whatsoever. When closed, the blade is seated perfectly centered in the handle. This knife is in absolutely mint condition, just as it came from Ray. Not a mark on it. As with all our folders, it comes in a padded zippered case.
Condition:
Previously owned, Brand new, mint condition
Never used, carried or sharpened
Overall length: 8 1/2"

Blade length: 3 3/4"

Closed length: 4 3/4"