Red Horse Knife Works WAR PIG Flipper, Fine Orange Peel Titanium Frame, 2-Tone Blade (SOLD)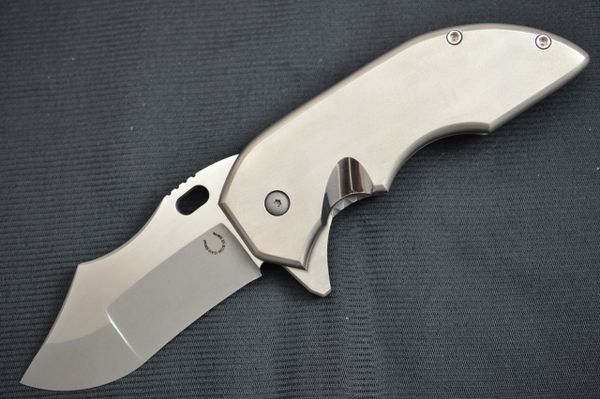 Red Horse Knife Works WAR PIG Flipper, Fine Orange Peel Titanium Frame, 2-Tone Blade (SOLD)
The War Pig is a stout overbuilt folding EDC knife designed for hard field use.  This knife was designed for the military operator and LEO professional in mind.  This particular knife features a two-tone 3/16" D2 blade, heat treated to 58 Rockwell hardness with a V grind style profile.  The main cutting portion has a prominent re-curve for added cutting power, while the tip of the blade is suited for finer cutting.  The wide profile ensures structural integrity, even in the worst conditions.  The frame-lock construction features a 0.187" thick titanium lock side, and a 0.187" titanium scale, which has a hardened stainless insert for the bearing action.  The entire handle of this knife has been finished with a wire wheel, giving the knife a fine orange peel appearance.  The handle is designed with two large finger grooves to ensure against slippage in any environment.  The forward groove, also used for you thumb to release the frame-lock, has been highly polished.  This knife features dual flipper and thumb-hole style opening actions.  The knife also features Carbidized Lock Faces, Bearing Action, Precision Pivots by Alpha Knife Supply, and Precision Stainless Stand Offs.  
The blade flips with a little wrist action, lock-up is rock solid, and the blade sits centered in the frame.  It comes shipped in a Red Horse Knife Works pouch.
Windy City Knives is privileged to be an authorized dealer for Red Horse Knife Works.  We are proud to offer Ed Kim's knives, direct from his shop in Mt. Prospect, Illinois.
Condition:  Brand New from the Maker.
•           Overall length:  8 1/8"
•           Blade length:    3 1/4"
•           Closed length:  4 7/8"