Rick Hinderer Custom "Half-Track" Flipper, Anodized Bronze Titanium Frame-Lock, Tumbled Blade (SOLD)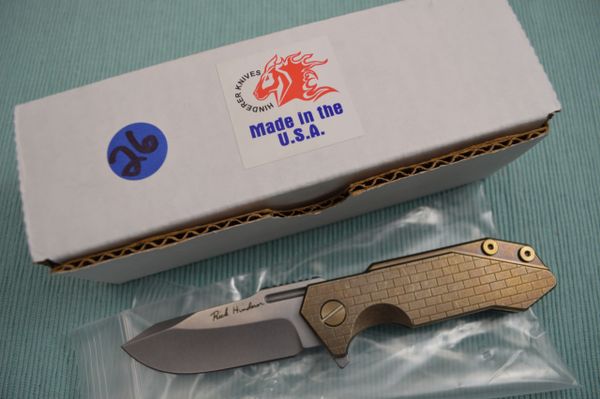 Rick Hinderer Custom "Half-Track" Flipper, Anodized Bronze Titanium Frame-Lock, Tumbled Blade (SOLD)
New from Rick Hinderer is this custom model "Half-Track".
"The Hinderer Half-Track is named due to its extra stout construction! The lockside and handle scale are 0.165" thick titanium, as well as a 0.165" thick S35VN blade!  Like all of our knives, this one is assembled with over built, extremely durable, titanium and stainless steel components!  The Half-Track may be a small knife, but it is up to the toughest of tasks!"  (from the Rick Hinderer Knives Newsletter).
With regard to the handle pattern:
"Those are bricks. I thought of that pattern while sitting at my desk looking at the design and thinking "this thing is built like a brick Shithouse."  
Rick Hinderer
This particular custom Half-Track is a rather rare knife from Rick.  It is one of a very few that were done with a tumbled blade.  This frame-lock flipper folder features a anodized bronze titanium frame, and tumbled S35VN steel blade.  It comes with original box, baggy, and peanuts.  It flips smoothly, locks up tight with no blade play, and the blade sits centered in the frame.  This is a full custom.  There are only a couple of customs currently available anywhere.  Don't miss out!
Condition:
  New From Maker
Overall length:  6 1/2"

Blade length:    2 3/4"

Closed length:  3 3/4"