Rick Hinderer XM-18 3.5" Wharncliffe Flipper Folding Knife, OD Green (SOLD)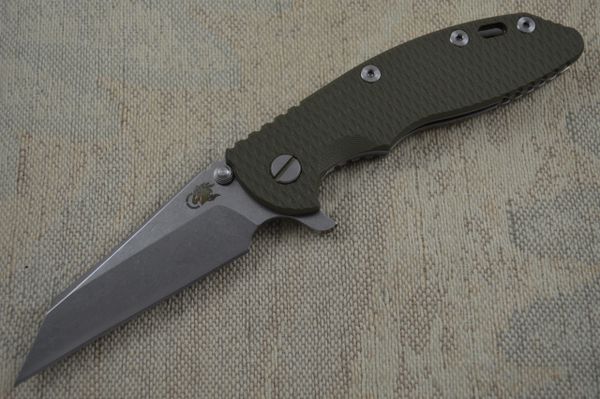 Rick Hinderer XM-18 3.5" Wharncliffe Flipper Folding Knife, OD Green (SOLD)
This XM-18 flipper folder is BRAND NEW and just acquired directly from Rick Hinderer Knives. It features a CPM20CV stonewashed Wharncliffe-shaped blade, and an OD Green scale. The clip is set for tip down carry. However, there are pre-drilled holes to flip the clip for tip up carry. There are 3 titanium barrel-shaped spacers, and the handle has a lanyard hole. It also features Rick's lock bar stabilizer and serrated thumb ramp. The knife is marked "Hinderer" on the stonewashed titanium side of the handle. The knife flips with little bit of wrist action, and exhibits a strong detent, excellent blade seating, and rock solid lock-up - no wobble or blade play in any direction. The frame lock handle has an easy lock release, as well. It is in Mint Condition. The knife will come in a Hinderer Made in the U.S.A. box, with baggie and peanuts - just as it came from Rick's shop. No case.
Condition:
Brand New from Maker
Mint Condition
Overall length: 8 1/4"

Blade length: 3 1/2"

Closed length: 4 3/4"