R.W. Loveless Design Beretta Stag Handle Caperfin Hunting Knife (SOLD)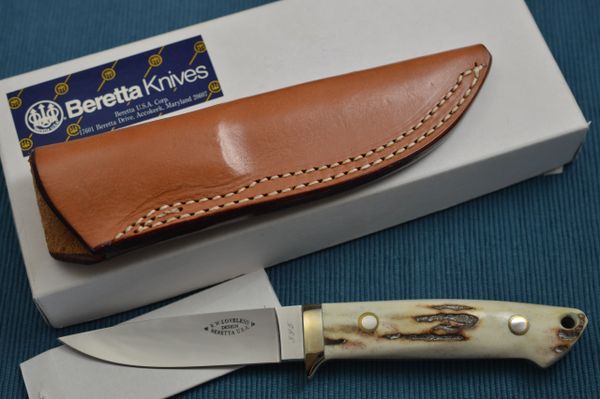 R.W. Loveless Design Beretta Stag Handle Caperfin Hunting Knife (SOLD)
This R.W. Loveless Design Beretta hunting knife is the second Loveless design in the series, made exclusively for The Beretta Master Knifemaker's Series.  The Caperfin was offered in a strictly limited edition of 500 pieces.  Beretta refers to the Caperfin as an "investment quality knife, crafted with consummate skill from the finest materials obtainable".  The drop point blade is made from ATS-34 stainless steel, with a high mirror polish finish.  The handle scales are nicely matched Indian Sambar Stag, deeply shaped and contoured.  The precise balance and ergonomics make it instantly at home in your hand.  The tapered tang (with red liners) reduces weight.  The knife is the perfect companion for any hunter, fisherman or outdoorsman.  This Caperfin is serial number 395.  It is Brand New, in the Beretta box, with the original premium saddle leather pouch-type belt sheath.  These knives have long been sold out by Beretta and dealers.  The stag handled Caperfin is a rare find.  The Caperfin was introduced by Beretta in 1994 / 1995, making this knife approximately 25 years old.
Condition: Previously owned. New. Mint.
                   Never used, carried or sharpened
Overall Length:     8"

Blade Length:       3 3/4"

Handle Length:     4 1/4"