Sal Manaro Damascus GMC V2 Liner-Lock Folding Knife (SOLD)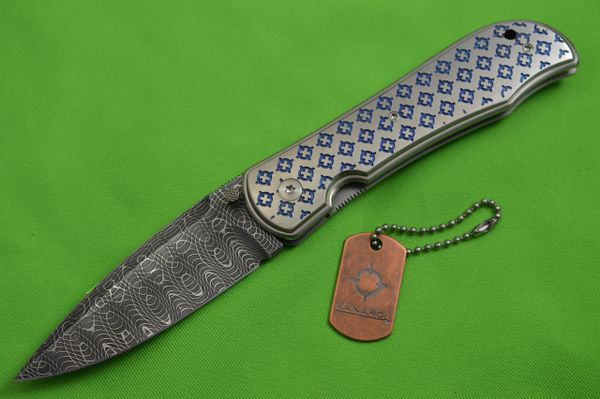 Sal Manaro Damascus GMC V2 Liner-Lock Folding Knife (SOLD)
This GMC V2 liner-lock folding knife is new from Sal Manaro at the 2021 New York Custom Knife Show (NYCKS).  The knife features a Devin Thomas Damascus blade, titanium liners and titanium scales with Sal's signature "bullseyes" on both sides of the handle.  All the bullseyes were done by hand with a Pantograph.  Sal does not use a CNC machine.  Sal has some serious grinding skills.  The blade edge is hair-popping sharp.  The titanium pocket clip has been anodized blue and is set for tip-up carry.  Sal's "MANARO" maker's mark with an arrow is engraved on the pocket clip.  Sal's has sweated the details and checkered the single thumbstud, included a notched thumb rest, checkered the titanium backspacer and included a lanyard hole.  He's even notched the liner-lock release bar.
The GMC V2 is a sturdy knife that clearly demonstrates Sal's outstanding knifemaking skills and his fit and finish.  The blade runs on washers.  It opens smoothly, locks up vault tight, has no lock stick, and is centered in the handle when closed.  The knife comes in a generic black Velcro pouch provided by Sal, and a Steel Flame Manaro Dog Tag.  This would make a great addition to any collection, or just as easily be an everyday carry.
Condition:  New from the Maker.
Overall length:  8 1/4"




Blade length:    3 1/2"




Closed length:  4 3/4"