G.H.K. SPARTAN HELMET Bronze Lanyard Bead, Zipper Pull, Paracord FOB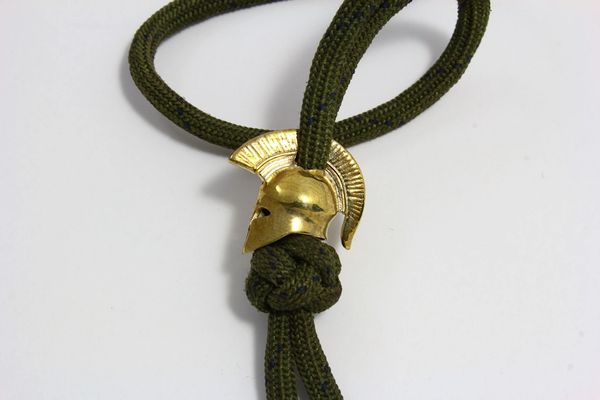 G.H.K. SPARTAN HELMET Bronze Lanyard Bead, Zipper Pull, Paracord FOB
These Spartan Helmets are handmade by Stavros Gizelis of G.H.K. in Greece. Windy City Knives is privileged to be an authorized dealer for his knives and cast objects. Please also check out our great selection of Stavros' knives currently available. These Spartan Helmets can be used as a lanyard bead / paracord FOB, zipper pull, or anything else you can think of. They can even be used on a bracelet.
Stavros uses the very old method of "lost wax" casting to create these helmets. He finds that this method gives him the best results. He uses a wax, hand carved initial model, which is then duplicated in a special "rubber" material. Then this "master model" is transferred in a "tree" that has multiple copies surrounding it. When the basic cast model is ready for casting the whole setup is put inside a rotating machine in which the molten bronze is distributed by centrifugal force inside the casting space, creating the model. After that is done, the real tedious work begins. All the small scales of each casting must be removed, using a variety of different polishing compounds. Polishing removes all the small imperfections, and is completed only when he has achieved the desired mirror polished surface. What makes the whole process more difficult and time consuming is the small size of the helmet - it is very difficult to hold it securely while the polishing wheel is spinning. Stavros spends about an hour polishing the outside and inside of each helmet. The marine grade bronze he uses is one of the best grades of bronze. It will not tarnish or get a green patina over time.
Shipping is FREE by USPS First Class Mail.
Condition: Brand new from the maker
Approximate dimensions are:
Height: 16.5 mm
Width: 9.5 mm
Depth: 19.0 mm
Hole Diameter: 3.5 mm
Note: Paracord not included.