Steve Dunn, M.S. Large Damascus Trapper, Stag, 24K Gold Engraving (SOLD)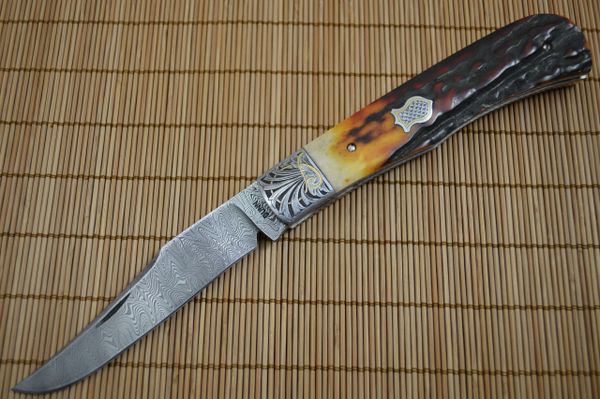 Steve Dunn, M.S. Large Damascus Trapper, Stag, 24K Gold Engraving (SOLD)
Steve Dunn is not only a Master Smith in the American Bladesmith Society, but he has also become one of the most respected folder makers in the industry, as well as a master engraver. In fact, he teaches engraving classes at GRS Engraving in Emporia, KS, when he is not in the shop hammering steel. This stunning large Trapper features a Damascus blade forged from 1075 and 15N20 steels, and 416 stainless steel bolsters, pins, and liners. The liners and bolsters are actually integral - meaning there are no seams between them - they were machined from a solid piece of steel. The backspring is CPM-154 stainless steel. The scales are two beautifully matched stag slabs, with great texture and color. There is an inlaid shield on one side. All the engraving on the bolsters and shield were done by Steve. Bordering the shield and interlaced in the engraving on the bolsters is 24K gold scroll work. The knife features a half-stop, locks up tight with no blade play, and the blade seating is perfect. Nice large nail nick, with a firm yet easy pull. Great walk-and-talk from the master!
Condition:
New from the maker
Overall length: 8 1/4"

Blade length: 3 3/4"

Closed length: 4 1/2"