Tashi Bharucha HEAT SEEKER, Blade Show 2019 Lottery (SOLD)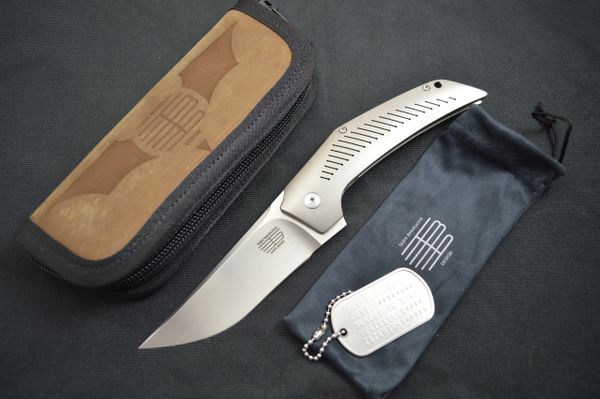 Tashi Bharucha HEAT SEEKER, Blade Show 2019 Lottery (SOLD)
The Heat Seeker frame-lock flipper is one of Tashi Bharucha's latest designs.  The profile and ergonomics have Tashi written all over them.  How he fits a big blade into such a sleek design is amazing - it just works!  To handle one of Tashi's knives is true experience - it melts in your hand.  This knife features a hand rubbed Elmax Superclean blade with a top swedge, that flips on bearings.  The frame is milled Titanium with venting on both sides, and the full backspacer is beveled Titanium.  It also features a sculpted Titanium clip that flows perfectly with the frame.  The action is perfect.  The blade sits dead center in the frame, locks up vault tight, zero lock stick, and spot-on detent.  This knife come to you direct from Tashi's lottery at the 2019 Blade Show.  It comes in one of Tashi's padded, zippered leather cases, along with a Tashi drawstring pouch and metal dog tag style COA.
Condition:
  New from the maker
Overall length:  8 1/2"

Blade length:    3 3/4"

Closed length:  4 3/4"