Tim Britton TANGO Flipper, Blue Anodized Titanium Frame, Stonewashed S30V (SOLD)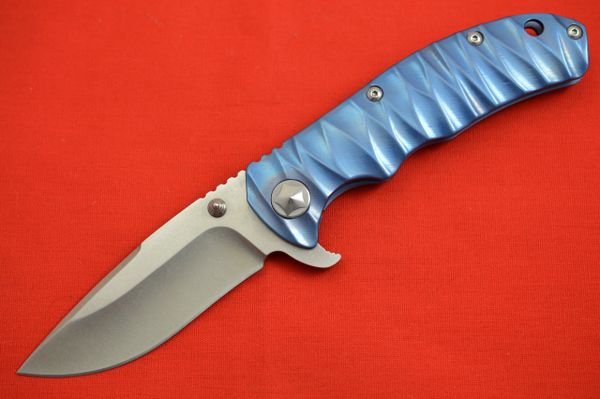 Tim Britton TANGO Flipper, Blue Anodized Titanium Frame, Stonewashed S30V (SOLD)
This is Tim Britton's Tango frame-lock, tactical flipper.  I features a full titanium sculpted frame that has been anodized blue, and the blade is S30V done in a stonewashed finish.  The titanium clip is currently set for tip-up carry, but can easily be reversed for tip-down carry.  This is Tim's full-size Tango model, not to be confused with his smaller Tango 2 model.  The knife also features dual thumbstuds, barrel spacer stand-offs, and a lanyard hole.  There are thumb notches (jimping) on the blade spine, as well as the forward part of the frame, for enhanced grip and control.  The flipper tab becomes an integral guard when the blade is deployed.
The knife is previously owned, and in excellent to near mint condition.  It has never been used, nor has it been carried.  The blade and frame are as-new.  The blade sits perfectly centered in the frame when closed, and the lock-up is rock solid.  I need a little bit of wrist to flip the blade.  Comes in a Tim Britton padded, zippered case.
Condition:  Previously owned.  Excellent.

                    Never carried, used, or sharpened
Overall length:  8 1/4"

Blade length:    3 1/2"

Closed length:  4 3/4"