Wally Hayes Japanese-Style Stingray Cord Wrapped Tanto Neck Knife (SOLD)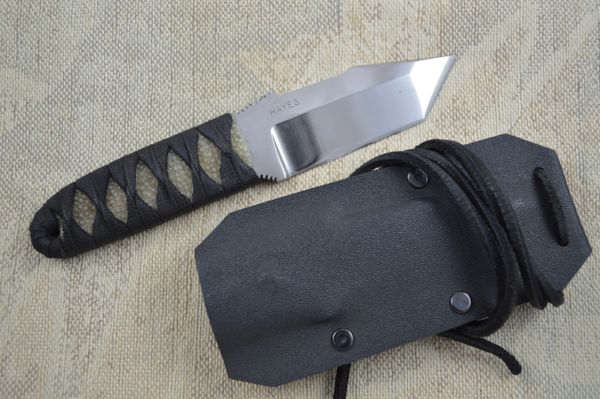 Wally Hayes Japanese-Style Stingray Cord Wrapped Tanto Neck Knife (SOLD)
This Wally Hayes Japanese-style cord wrapped neck knife has never been used, but does show some minor kydex sheath rub and marks, and a light carbon spot or two. It is made from 1/4" stock steel, and has a mirror polished chisel ground tanto-shaped blade, as sharp as only Wally Hayes can grind it. There is a notched thumb ramp on the top of the blade, and notched index finger ramp on the bottom of the blade, for enhanced feel and control. The handle has neutral-toned stingray skin under the cord wrapping. The cutting edge is approximately 3" overall. This is a stout little knife, that feels like it would go through a car door. Super strong back-up or self-defense knife, weighing a mere 5.8 ounces with the sheath. We've done some searching and have not been able to find a similar style knife from Wally, nor did the owner know the model name. So we are not certain if there is a model name for this piece, or if it was a custom, one-off knife.
Condition:
Previously owned. Excellent condition. Blade has marks as noted.
Never used, carried, or sharpened.
Overall length: 6 3/4"

Blade length: 3 1/2"