Warren Osborne Interframe Lever Lock #001, Black Lip Tahitian Pearl (SOLD)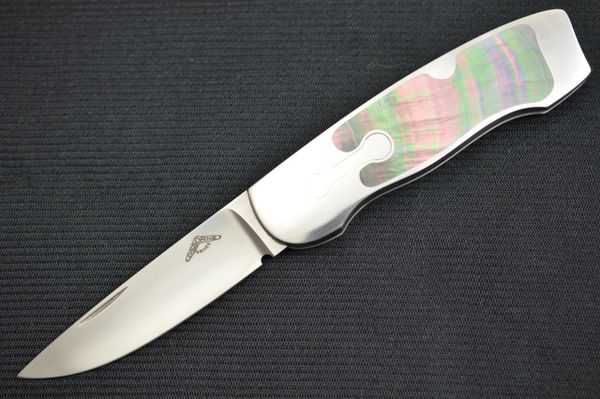 Warren Osborne Interframe Lever Lock #001, Black Lip Tahitian Pearl (SOLD)
Sadly, the knife community lost legendary knifemaker Warren Osborne in January 2016. Warren was known for his quality, tight tolerances and fine hand finishes. His specialty was high-end pocket knives, many of which were Interframes. Holding an Osborne knife gives you the immediate sense of the quality of the materials he used, his high standard of workmanship, his unique elegance, and the care and effort that went into each and every one of his knives. A native of Australia, Osborne moved to Texas, where he resided in Waxahachie for many years. He was a full-time knifemaker and sold his first custom knife in 1980. He joined the Knifemakers' Guild as a probationary member in 1985. He later became a voting member and served on the Guild's board of directors for a number of years.

This custom folding knife is a classic example of the quality of Warren's work. It features Warren's lever lock, and is marked serial number 001. The lever lock mechanism is discretely hidden in plain sight on the "A" side of the frame. Warren's tolerances are so tight, that is nearly impossible to see the cut out of the lever. Depress it gently, and the blade gently releases from the frame, enough to then open it fully. There is a nail nick to open it, but the blade is "locked" into handle until the lever is depressed. Close the blade by gently depressing the lever, and it quietly "clicks" into place. The frame is 416 Stainless Steel, the blade is CPM-154 steel, and the inlays are premium Black Lip Tahitian Pearl shell. The fiery colors are difficult to capture in the photos. Move the handle in the light, and they pop.
The knife opens as smooth as silk. It locks up tight with absolutely no blade play, and the blade is perfectly centered in the frame when closed. This knife is in pristine, mint condition. Look at the last photo - inside of the frame - clean as a whistle. Warren's knives are becoming difficult to find. Unfortunately, since his passing, collectors are holding on to his work. This is a gorgeous piece for any collector, and a centerpiece for your collection. It will come in a case or protective sleeve.

Condition: Previously owned. Mint condition.
Never used, carried or sharpened
Overall length: 6 3/16"

Blade length: 2 11/16"

Closed length: 3 1/2"