Will Moon Custom Mark 7 Black Cerakoted Frame-Lock Flipper Folding Knife (SOLD)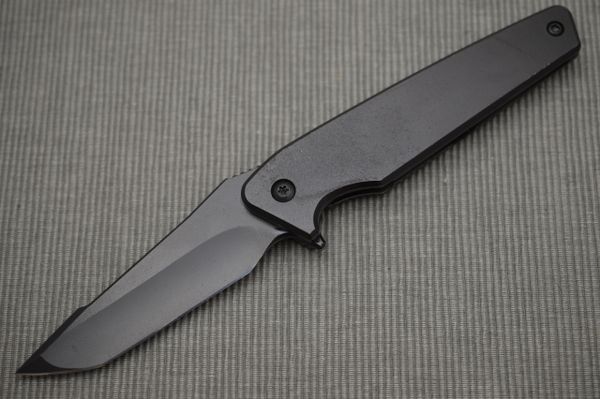 Will Moon Custom Mark 7 Black Cerakoted Frame-Lock Flipper Folding Knife (SOLD)
This Mark 7, Black Cerakoted, custom frame-lock flipper by Will Moon is the perfect carry size - comfortable and functional.  The fully black Cerakoted blade and frame gives the knife that covert "stealthy" look, that makes for more discreet carry.  The knife features a Tanto grind, Harpoon-shaped CPM-154 stainless steel blade with a notched thumb rest, and a titanium frame - again, both Cerakoted black.  The blade rides on ceramic bearings, and flips easily with good detent.  The hardware is all blackened titanium.  And the tip-up carry pocket clip and backspacer are both black G10.
The knife flips easily and strong with good detent, and locks up tight.  The blade has an easy lock release, and is just about at center when closed.  The knife is previously owned, and has no signs of use.  There is some "lightening" of the Cerakote just below the pivot, presumably from handling.  It is in excellent condition.  Comes in a padded, zippered case. 

Condition:   Previously owned.  Excellent.
                   Never used or sharpened
Overall length:  8 1/2"
Blade length:    3 1/2"
Closed length:  5"