Zero Tolerance ZT 0302 Coyote Brown Assisted Opening Folding Knife (SOLD)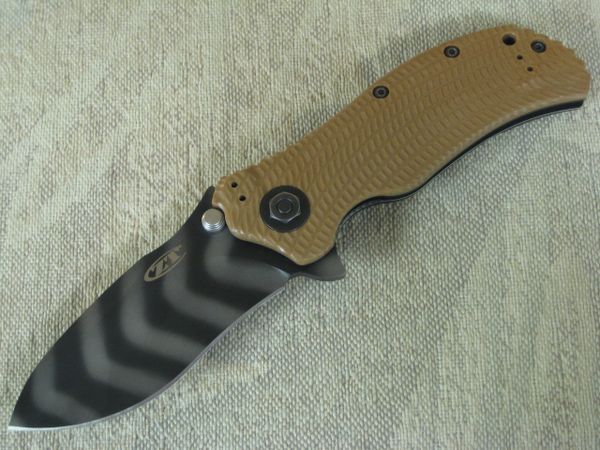 Zero Tolerance ZT 0302 Coyote Brown Assisted Opening Folding Knife (SOLD)
Here at Windy City Knives we typically only sell handmade or custom knives. But every once in a while we are fortunate to acquire a Grail factory knife, as in the case of this mint, new in the box Zero Tolerance ZT 0302. This knife has been discontinued, and long since sold out by most. If you are a fan of NCIS, then you know that this particular model in Coyote Brown has been seen on the show. It was the knife that Leroy Jethro Gibbs' (Mark Harmon), loaned to Director Vance when he was in the hospital to protect himself, and later seen in that same episode when he uses it to cut steak with Special Agent DiNozzo. As you fans of the show know, Gibbs' Rule #9 is "Never go anywhere without a knife".
This Kershaw Zero Tolerance model 0302 was co-designed by Strider and Ken Onion. It features the Onion patented SpeedSafe® assisted opening system, with one-handed, effortless index finger flipping action. It can also be opened with the ambidextrous thumbstud, that also effortless fires it opened. The handle is titanium with coyote brown, textured G-10 overlay to give you a good grip on the knife even in wet conditions. The S30V stainless steel blade has a striped tungsten DLC coating, with an adjustable pivot that is secured by a common hex nut allowing for simple field take-down if necessary.
The knife is made in the U.S.A. by Kai U.S.A. Ltd. It is in new condition, in the original box with the Operating Instructions. It fires strong, locks up tight with no blade play, and the blade seating is centered. Excellent quality workmanship was done on this combat-ready folder. You won't see many more of these around - they are coveted by collectors of ZT Knives and NCIS fans.
Condition:
Previously owned. Mint
Never used, carried, or sharpened.
Overall length: 8 1/2"
Blade length: 3 3/4"
Closed length: 5 1/4"
Weight: 8.6 ounces