Barry Davis Sole Authorship Blacklip Pearl & Damascus Lock-Back, 14K Gold Bale & Toothpick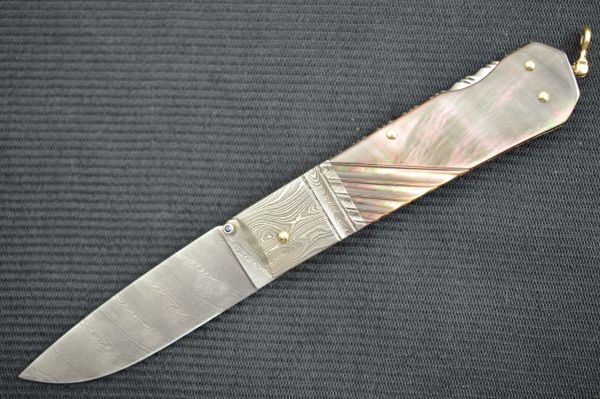 Barry Davis Sole Authorship Blacklip Pearl & Damascus Lock-Back, 14K Gold Bale & Toothpick
Barry Davis' interest in custom knives began after he was introduced to James A. Schmidt in 1978. Jim taught him the finer points and guided him through the completion of many carbon steel knives before he would agree to unlock the secrets of forging Damascus steel. Barry claims that after encountering a forge blade, it led him to believe that it makes a far superior blade. Special qualities can be imparted to the steel which cannot be accomplished through any other process. The majority of Barry's current work involves producing folding knives. His love of folders goes back to when he was a young boy. The variety and complexity of these knives provides him endless enjoyment in both designing and constructing these useful tools. Barry feels that knives are tools as much as they are pieces of artwork. They must be functional. The embellishments just make them more attractive. You can be assured of the extreme precision and craftsmanship in any of his folding wonders. Barry's current waiting list is running 24 - 36 months.
Barry fabricates every part of his knives from raw materials, including the blade steel, a variety of exotic materials for the handle scales, and the decorative embellishments using such materials as gold, silver and gemstones. His knives contain no parts made by others, a practice known in the knife world as "sole authorship", which makes his work more valued by collectors.
This custom "sole authorship" folding knife is a classic example of the quality of Barry's work. It features two presentation grade, fiery, carved blacklip pearl handle scales, a fluted Damascus front bolster with shadow lines, Damascus blade, and 14K gold pins, thumbstud, bale and toothpick. The thumbstud also has an inlaid blue sapphire gemstone. The liners and backspacer both have very tastefully done file-work that runs the length of the handle and on to the spine of the blade.
The knife opens as smooth as silk. It locks up tight with absolutely no blade play, and the blade is perfectly centered in the frame when closed. This knife is in pristine, mint condition. This is a gorgeous piece for any collector, and a centerpiece for any collection. It will come in a case or protective sleeve.

Condition: Previously owned. Mint condition.
Never used, carried or sharpened
Overall length: 5 1/4"

Blade length: 2 3/16"

Closed length: 3 1/16"