Billy Bob Sowell, M.S. Damascus Hunter, Fossilized Handle, Caiman Sheath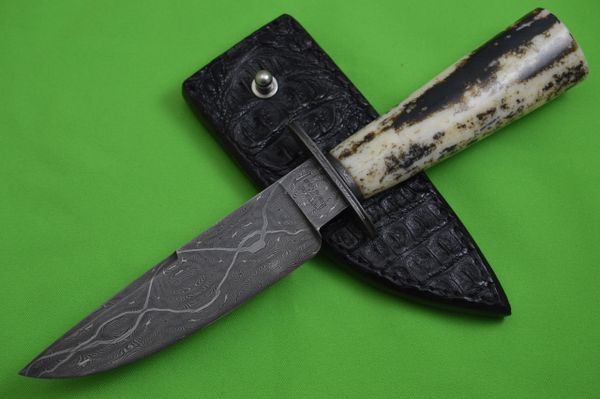 Billy Bob Sowell, M.S. Damascus Hunter, Fossilized Handle, Caiman Sheath
This Damascus Hunter was acquired directly from Billy Bob Sowell.  The random pattern, mosaic Damascus blade was forged from 1084 and 15N20 carbon steels, and the double lug guard and spacer are also Damascus.  The handle is made from a single piece of smooth ancient fossilized material, with some great patterns and contrast.  There is one pin on either side.  The blade is stamped "Iron Horse Forge Sowell" on one side of the ricasso, and "M.S." on the opposite side.  The sheath is made from Caiman, and was also made by Billy Bob.  It is stamped "Sowell" on the back side, near the throat of the sheath.  The knife is in mint condition.  It will also come with a padded, zippered case.
Condition:   New from the maker.
Overall length:    10"
Blade length:       5 1/2"

Handle length:     4 1/2"