Chad Nell Custom "New York Flipper", Cross-Cut Natural Brown Canvas Micarta, Kraken Black Timascus Clip (SOLD)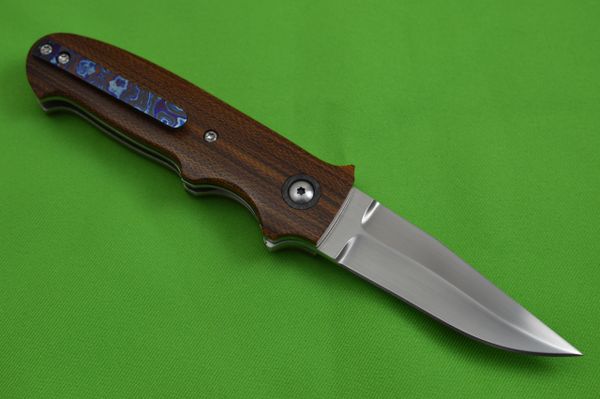 Chad Nell Custom "New York Flipper", Cross-Cut Natural Brown Canvas Micarta, Kraken Black Timascus Clip (SOLD)
Custom knifemaker Chad Nell is a perfectionist, and one of the best in the industry.  His attention to detail, and his fit-and-finish are second to none.  His knives are top shelf quality, and pleasing to the eye.  Don't let their beauty fool you, they are built tough enough to get any job done.  There is a true sense of pride in ownership, once you've had the privilege of owning one.  Chad uses only the best materials, and the quality and durability of every knife speaks for itself.
This is Chad Nell's Custom "New York Flipper" liner-lock, folding knife.  This NYF features cross-cut natural brown canvas Micarta scales, and marble carbon fiber pivot collars and a back-spacer.  The pocket clip is Kraken Black Timascus.  The blade is hand rubbed CTS-XHP.  The blade has an excellent detent, flips effortlessly, locks up securely, falls dead center in the frame when closed, and has no lock-stick. 
This knife is brand new, from Chad's shop.  Comes in a C. Nell padded zippered case, along with a signed Product Card / COA.  Windy City Knives is privileged to work directly with Chad, as one of his authorized dealers.
Condition:   New from the Maker
Overall length:    7 1/4"
Blade length:      3"
Handle length:    4 1/4"