Chubby Hueske Fixed Blade Hunting Knife, Leather Sheath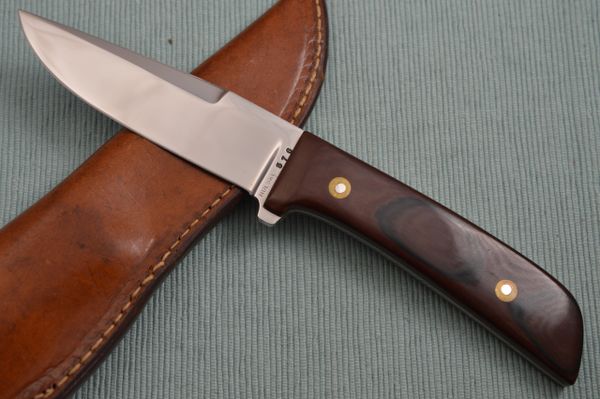 Chubby Hueske Fixed Blade Hunting Knife, Leather Sheath
This Chubby Hueske fixed blade hunting knife was made in the 1970s.  It comes from the original one owner collection, who purchased it directly from Mr. Hueske.  It is in excellent unused, unsharpened and uncarried condition, and includes the original leather pouch-type belt sheath which was made by Red's Saddle Shop.  The blade is 154CM stainless steel and is in excellent condition, with some barely perceptible sheath marks from storage and insertion.  The handle is old brown Micarta.  The single finger guard is an extension of the ricasso / tang.  The pins are stainless, with brass collars.  The visible full-tang construction shows a slightly tapered tang for reduced weight of the knife.  There are brass liners between the scales and tang.  The knife is marked "HUESKE" and the number "576" on the presentation side of the blade, and the number "576" also appears handwritten in ink on the back of the sheath.  The B side of the blade is stamped "No. 0".  This may be the first knife of this type for Mr. Hueske.   
This hunter would also be a great knife for camping, hiking or backpacking.  And if you don't own a Chubby Hueske in your collection, this would be the perfect knife to add to your collection.  There is no pouch included with the knife and sheath.  

Condition:  Previously owned. Excellent (as noted above).
                    Never used, carried or sharpened
Overall length:   9 1/2"
Blade length:      4 1/2"
Handle length:    5"