Curtiss Knives Large F3 Green G10 Frame-Lock Flipper Knife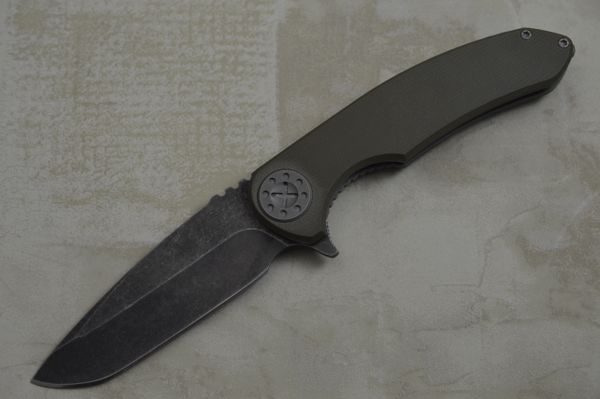 Curtiss Knives Large F3 Green G10 Frame-Lock Flipper Knife
This Curtiss Knives F3 large frame-lock flipper features a green G10 show side and dark titanium lock side handle.  The compound ground, drop point, Spanto-style blade is acid washed CTS-XHP stainless steel, with very aggressive jimping on the spine.  The titanium backspacer has some very aggressive notches, similar to the blade jimping, as well.  The tip-up mounted pocket clip sports Curtiss Knives' "crosshairs" design.  The F3 also features the Curtiss' S.P.O.T pivot system, with caged bearings.  S.P.O.T. stands for Stop Pivot Over Travel.  The large diameter pivot prevents over travel and up-and-down movement, by improving lock-bar stabilization.  The stop pin locks into a recess at the bottom of the pivot head, preventing the pivot from rotating.
The blade flips strong and fast.  The knife has nice detent, locks up tight, has an easy lock release, and the blade sits centered in the frame when closed.  The knife is previously owned, and in excellent.  Some lightening around the pivot from handling.  Comes in the padded, zippered case. 

Condition:   Previously owned.  Excellent
                   Never used, carried or sharpened
Overall length:  8 3/4"
Blade length:    3 3/4"
Closed length:  5"