Dennis "D.E." Friedly Fossilized, Engraved, Camp, Picnic Carving Set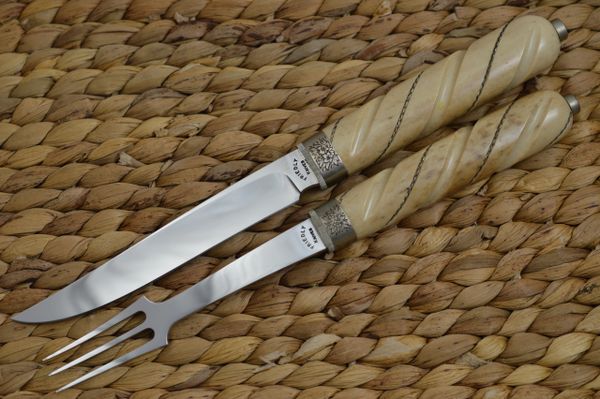 Dennis "D.E." Friedly Fossilized, Engraved, Camp, Picnic Carving Set
This Dennis Friedly carving set is what might be used at a campsite or picnic.  It is a scaled down version of what most would consider a full sized carving set - like one used for a turkey or roast.  The handle material is natural fossilized material.  It is expertly carved, with silver wire inlays on both the knife and fork.  There is engraving on both bolsters.  The engraving is not signed or initialed, so either Dennis did it or the artist failed to mark it.  There is also a floral engraved button-style butt cap on both.  The blade steel used is likely polished ATS-34.  Although not marked as such, Dennis uses this stainless steel on much of his work.  This set has great ergonomics and weight - they feel great in-hand.  The perfect combination to class-up your outdoor dining.  This outstanding set could just as easily work at home in the kitchen.  It is previously owned, but never used.  If you look under magnification, you'll find some very minor discoloration / patina on the bolsters.  The knife blade and fork look to be in great condition.  There are a couple of minuscule pinpoint spots on each, that are difficult to see and impossible to photograph.  The fossil material is beautiful - chip and crack free.  Each piece will be shipped in its own padded, zippered case.
Condition: 
Previously owned
                    Never used or sharpened
Knife
:             
Fork
:
Overall length:            9 3/4"            9 1/8"

Blade / Fork length:   5 1/4"             4 1/2"
Handle length:            4 1/2"             4 5/8"