Dick Atkinson Custom Handmade Abalone Inlay Lock Back Folder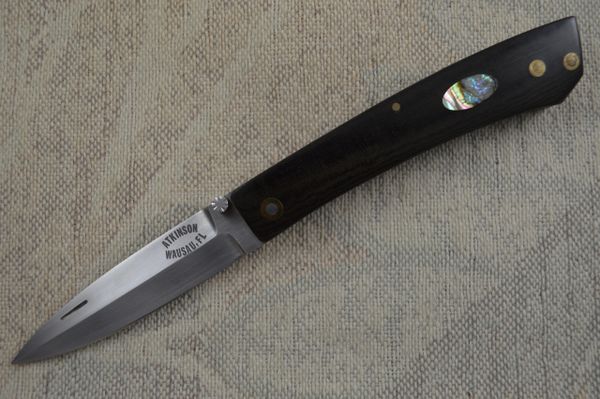 Dick Atkinson Custom Handmade Abalone Inlay Lock Back Folder
Dick Atkinson rear lock-back folding knife. 
It features a satin finished stainless steel drop point, spear point blade (steel type unknown) with file-worked dual thumbstuds, forward nail-nick pull, and fully file-worked stainless steel backspacer.  The handle is polished dark green (looks black) micarta with abalone inlays on both sides, and brass pins and pivot.  There is no cut-out on the rear of the handle for the lock.  However the file-worked backspacer is raised just enough in the rear, allowing you to easily depress the backspacer and release the blade.  Gives the handle a nice complete look.  The lock up is tight with no blade play, and the blade seating is centered.  Both the blade and handle are in excellent condition.
Condition:
  Previously owned. Excellent.
                    Never used, carried, or sharpened.                   
Overall length:  7 3/4"
Blade length:    3 1/4"
Closed length:  4 1/2"