Dwaine Carrillo AIRKAT VULCAN Model 6, Tactical Fixed Blade, Kydex Sheath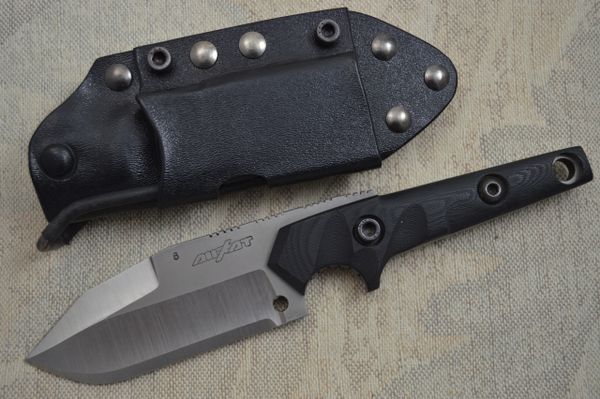 Dwaine Carrillo AIRKAT VULCAN Model 6, Tactical Fixed Blade, Kydex Sheath
Although not marked as such, we were told that this Dwaine Carrillo AIRKAT Model 6 is his VULCAN design.  We believe that this was an earlier version of the VULCAN Model 6, later versions were marked VULCAN on the blade.  The VULCAN Model 6 spear point blade is 1/4" thick 154 CM stainless, and ground on both sides.  The grips are contoured Black G10, and are of an earlier design, as well.  The Black Kydex sheath is a one-hand quick release design, with thumb break bar and belt loop. The breaker bar makes for very soft / fast / smooth one-hand deployment from the rig without the typical jerking involved in releasing a knife from a Kydex sheath.  The sheath is open all the way, with nylon spacers for ease of cleaning.  This knife has been previously owned.  It is in near mint condition, with no visible marks.  It has never been used or carried, and has the original edge.  Dwaine is no longer making fixed blade knives.  His fixed blades are highly coveted by collectors, and almost impossible to find in the secondary market.

Condition:  Previously Owned, Excellent to Near Mint
                      Never used, carried or sharpened

Overall length:   9 1/2"

Blade length:     4 1/4"