Dwaine Carrillo TRIMAX, Tactical Fixed Blade, Kydex Sheath, 1 of 2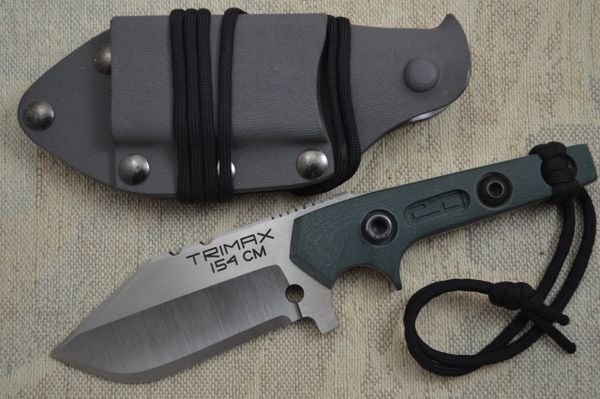 Dwaine Carrillo TRIMAX, Tactical Fixed Blade, Kydex Sheath, 1 of 2
This TRIMAX tactical fixed blade is a VERY RARE knife.  Dwaine only made two (2) of them - and this is one!  He describes the TRIMAX as having a utility-type spearpoint blade that is made of 1/4" thick 154 CM stainless steel.  This one has Green G10 contoured and milled grips, and comes with a Grey Kydex sheath with nylon sheath spacers and a belt loop attached.  The knife has a Paracord lanyard, and additional Paracord wrapped around the sheath.  The sheath has a thumb break for easier withdrawal.  This knife has been previously owned.  It is in near mint condition, with no visible marks other than perhaps a faint sheath mark on the blade flat.  It has never been used or carried, and has the original edge.  Dwaine is no longer making fixed blade knives.  His fixed blades are highly coveted by collectors, and almost impossible to find in the secondary market.  This one is one of the rarest.

Condition:  Previously Owned, Excellent to Near Mint
                      Never used, carried or sharpened

Overall length:   8"

Blade length:     3 1/2"