Early George "G.W." Stone 16.5" Bowie Knife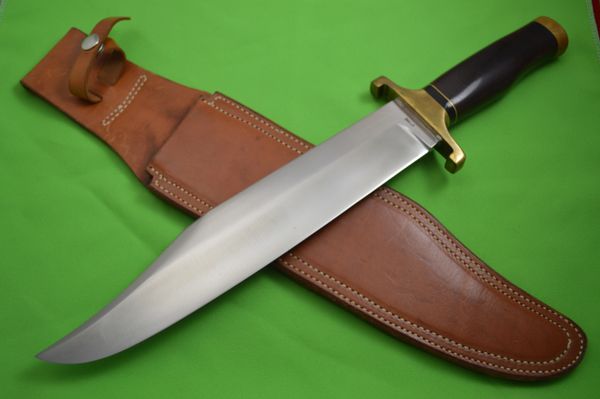 Early George "G.W." Stone 16.5" Bowie Knife
George W. Stone was from Richardson, Texas.  He was a founding member of the Knifemakers Guild, and started selling knives around 1953.  G.W. partnered with Ralph Bone, another outstanding knifemaker, from 1964-1966.  George's knives, as well as Ralph's knives, are getting increasingly hard to come by, and are coveted by collectors.
This is one of G.W. Stone's large Bowies.  The 11" blade is made from an unknown steel, with a sharpened clip (top edge) for about 4.5" from the tip.  The handle is an unknown wood, perhaps Cocobolo or Desert Ironwood.  The double lug guard is brass, as is the butt cap.  There is a black spacer and a thin brass spacer, below the guard.  Stamped on one side of the blade ricasso is "STONE".  There are no other markings on the knife.  The knife came out of a private collection.  Overall, it is in excellent condition.  There are some micro scratches on the blade, as well as some sheath marks, and the brass has developed a patina.  I see no carbon spotting or pitting of the blade.  It appears to have never been used, carried, or sharpened.  The leather belt sheath is also in excellent condition, with some minor storage marks.  The sheath is unmarked.

Condition:  Previously owned. Excellent.
                    Never used, carried or sharpened.

Overall length:   16 1/2"
Blade length:     11"
Handle length:    5 1/2"
Blade Height:     2"
Weight:               27.3 ounces