Emerson Knives "EOD" Fixed Blade Knife, Non-Magnetic Copper Beryllium Alloy Blade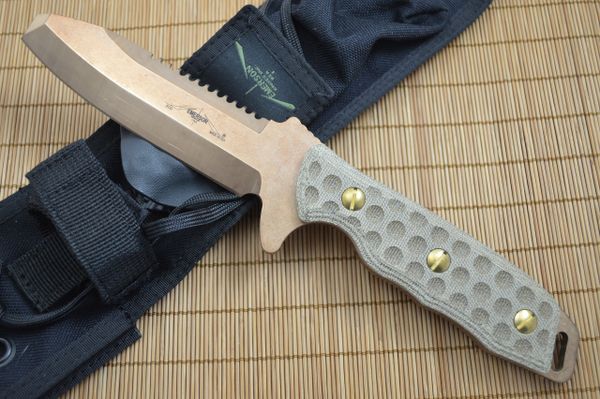 Emerson Knives "EOD" Fixed Blade Knife, Non-Magnetic Copper Beryllium Alloy Blade
From the Emerson website...EMERSON EOD KNIFE.  This knife, designed by Ernest Emerson and built by Emerson Knives, Inc., is the ultimate in a purpose-driven tool.  Made from Beryllium Copper alloy, it has been tested and spec'd by Naval Special Warfare as fulfilling the requirements for a Mine and Explosive Ordnance Countermeasure tool.  The knife is outfitted with brass (nonmagnetic) hardware and dimpled canvas micarta handles for hard use under the most extreme conditions and environments.  The blade features a flat tip and chisel ground profile for efficient use and ease of sharpening.  In addition, the flat top saw teeth along the spine can be used to tear through soft material if required.  For those of you not familiar with the Beryllium Copper material bear in mind this is nowhere near the hardness of heat-treated steel.  You will dull it if you treat it as you do a regular knife.  This is a mine probe tool that can cut if it has too but its primary function is not to be a box opener or pencil sharpener.  The copper finish on the blade may vary.  Not meant to be pretty.  This is a tool.  This tool is currently in use with various EOD personnel stationed in numerous hot spots around the world.
This Ernie Emerson EOD features a chisel ground Copper Beryllium Alloy blade, and a dimpled Green Canvas Micarta handle.  The EOD blade and its brass hardware are NON-MAGNETIC.  The EOD has been discontinued by Emerson Knives, and will become increasing more difficult to find over time.
In addition to the nylon/Kydex sheath, the knife will ship with the pictured pamphlet, sticker and caution insert.  The knife is previously owned, and in new condition.  It has never been used, sharpened or carried.  There are some typical faint horizontal micro scratches on the blade, caused by insertion and removal of the knife from the Kydex.   Again, per the Emerson Knives website, the copper beryllium alloy finish is not meant to be pretty, so the micro scratches from the sheath are really secondary to the finish.  Please note that the knife will also come with the original cardboard box provided by Emerson.
Condition: Previously owned.  New.
                   Never used, carried or sharpened.
Overall Length:   10 1/4"

Blade Length:      5"

Handle Length:    5 1/4"