Emil Morgan Stag Loveless-Style Engraved Fighting Knife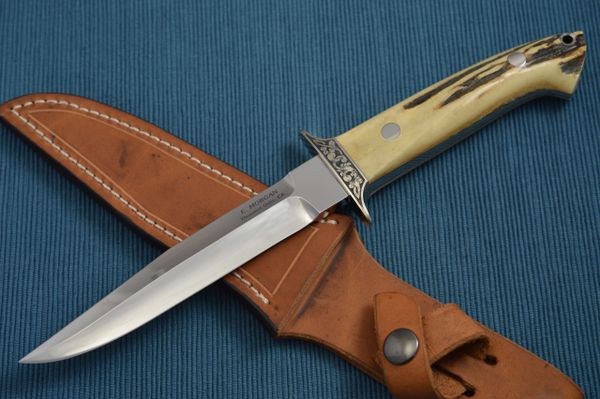 Emil Morgan Stag Loveless-Style Engraved Fighting Knife
This Fighting Knife was made by Emil Morgan of Thousand Oaks, CA.  It is a tribute to a Loveless-style Fighter.  It features a mirror polished blade made of ATS-34 stainless steel, with just under 3" of the spine having been sharpened from the tip.  The handle is two (2) nicely matched and thick stag scales with stainless steel pins.  The handle measures just over 1.0" in thickness at the widest part.  A full tapered tang sandwiched between dark red liners, adds to the solid construction and helps reduce weight.  There is also a stainless steel lined lanyard hole.  The double guard has been tastefully engraved on both sides.  The artist did not sign the engraving, so I am assuming that it was done by Emil.  The knife comes with a handmade leather belt sheath with retention strap, also presumably crafted by Emil.  It was previously owned, and in near mint condition, with nothing more than some wispy micro scratches on the ricasso from the sheath.  It has never been used, carried or sharpened.  Also includes a padded zippered case.
Condition: Previously owned. Near Mint.
                   Never used, carried or sharpened
Overall Length:      11"

Blade Length:         6" (5 1/4" cutting edge)

Handle Length:       5"