Eugene Shadley Mini Hunter, Sterling Silver Bolster / Pins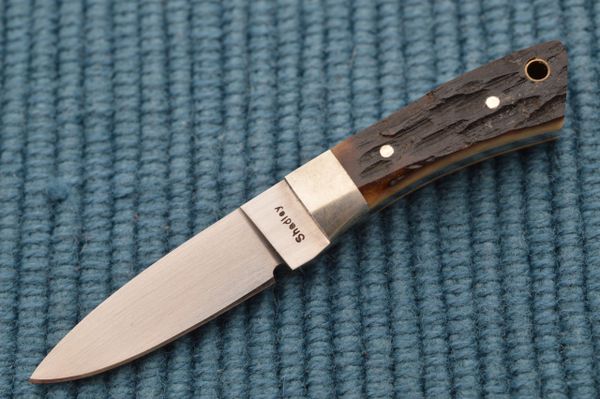 Eugene Shadley Mini Hunter, Sterling Silver Bolster / Pins
Eugene Shadley has been making collector grade folding knives since 1988.  Along with Terry Davis, they literally wrote the book on making multi-blade folding knives.  Published in 1997, they co-authored "How To Make Multi-Blade Folding Knives" in 1997.  Eugene's work is as collectible today, as when he first started making knives.  You will often find him at knife shows, where he frequently sells out.  You have to hold one of Eugene's knives to truly appreciate his fit and finish, and his attention to detail.  The quality of his knives has been consistent throughout his entire career.
This Mini Hunter was completed in 1997.  It features an ATS-34 stainless steel blade with Paul Bos Heat Treatment, brown jigged bone scales, and Sterling Silver bolster and pins.  Believe it or not, there's even a brass lined lanyard hole.  The Sterling Silver has developed a patina from age during storage.  You can see it in the photos of the tang - top and bottom.  I am certain it can be polished, but we'll leave that up to the new owner.  Eugene's tolerances are tight, and this miniature knife is perfectly executed.  The knife is previously owned and other than the patina, is in excellent condition.  The knife will include the pictured signed COA.  This is knife number 610, completed 3/5/97.  No pouch.  Comes as pictured.
Condition:  Previously owned. Excellent
                    Never used, carried or sharpened
Overall length:       1.80"

Blade length:          0.92"
Handle length:        0.88"