Eugene Shadley White Mother Of Pearl 2-Blade Wharncliffe Jack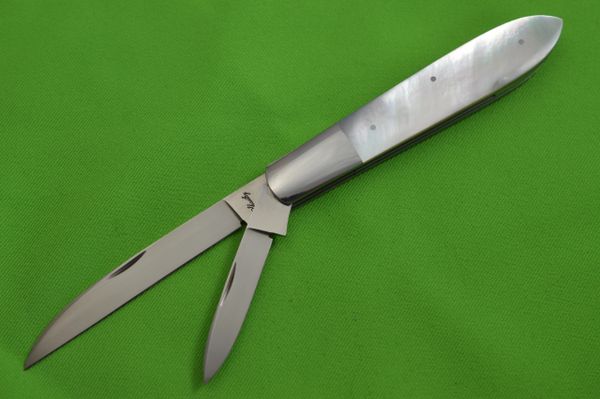 Eugene Shadley White Mother Of Pearl 2-Blade Wharncliffe Jack
Eugene Shadley has been making collector grade folding knives since 1988.  Along with Terry Davis, they literally wrote the book on making multi-blade folding knives.  Published in 1997, they co-authored "How To Make Multi-Blade Folding Knives" in 1997.  Eugene's work is as collectible today, as when he first started making knives.  You will often find him at knife shows, where he frequently sells out.  You have to hold one of Eugene's knives to truly appreciate his fit and finish, and his attention to detail.  The quality of his knives has been consistent throughout his entire career.
This 2-blade Wharncliffe Jack was the first of this pattern when it was completed in 1998.  It is in the same new, mint condition as when it was first made.  It features blades made from ATS-34 stainless steel.  The main blade is the Wharncliffe and the secondary blade is a Pen blade.  The teardrop shaped frame is covered with two (2) fiery, and beautifully matched, white Mother of Pearl scales.  The bolster is integral to the liners, and the frame is made from 416 stainless steel.  Eugene's tolerances are tight, and the knife is perfectly executed.  Both blades lock up tight with no play, and the seating of each blade is spot-on center in there respective "wells".  There are no half stops on either blade.  Both have ample nail nicks with comfortable and smooth pulls.  The knife is previously owned and in mint condition.  The knife will include a signed COA.  Eugene has clearly written that it is the "1st of this pattern".  This is knife number 700, completed 9/7/98.  Comes in a felt pouch.
Condition:  Previously owned. Mint
                    Never used, carried or sharpened
Wharncliffe Blade length:    3 1/4"

Pen Blade length:                2 1/4"
Closed length:                     4"