Fernando Medina Custom San Mai HELLCAT Frame-Lock Flipper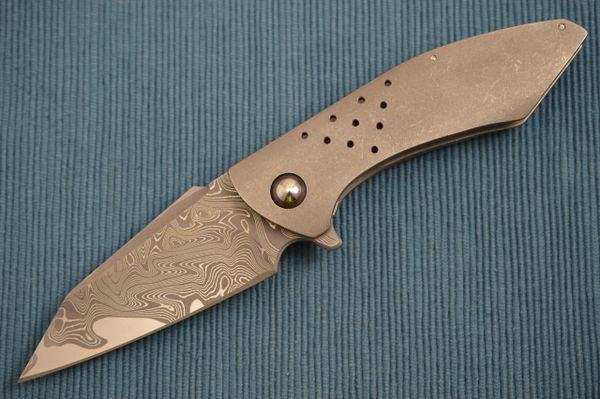 Fernando Medina Custom San Mai HELLCAT Frame-Lock Flipper
The Hellcat by Fernando Medina is a well-built, tactical frame-lock flipper with excellent ergonomics.  The reverse tanto blade is made from Nichols S35vn Core San Mai Damascus, and it is extremely sharp.  The contoured titanium frame has a stonewashed finish, with vent holes on the presentation side.  The backspacer is carbon fiber, and the pivot collar and tip-up pocket clip are both zirconium.  The lines of the knife are clean and crisp, with great attention to detail and fit-and-finish.  It has excellent detent, and flips fast and with authority, thanks to the GTC bearings.  When you flip it open, you get that satisfying "thwack" when the lock bar engages.  The lock-up is early and secure.  The blade has an easy lock release, and is centered in the frame when closed.  The knife was previously owned, and is in mint condition.  I cannot find anything of note.  Comes in a padded, zippered case, along with a COA signed by Fernando. 

Condition:   Previously owned.  Mint.
                   Never used, carried or sharpened
Overall length:  8"
Blade length:    3 1/2"
Closed length:  4 5/8"