Gerry McGinnis Custom "Valve" Prototype, Halloween Flipper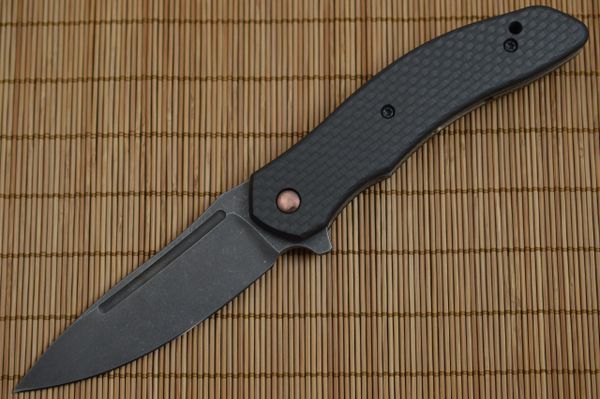 Gerry McGinnis Custom "Valve" Prototype, Halloween Flipper
This knife was originally sold via a Gerry McGinnis lottery on the USN in 2014.  It is a Valve Prototype, and so stamped "McGinnis Prototype" inside the handle, on the top of the liner on the clip side.  Also hand signed inside, on the lower part of the liner is  "Valve 015,  10-30-14,  D2".  The auction for this knife ended on Halloween.  I was told by the previous owner that Gerry called it the "Halloweenie".  This is a liner-lock, with a 0.160" thick D2 steel blade, acid washed, with a fuller, and jimping on the spine.  The liners are 0.080" thick bronzed Titanium.  The scales are LVA Carbon Fiber.  The blade runs on bearings.  And true to its sale date, it is all blacked out for the holiday.
As with all of Gerry's knives, it exhibits perfect flipping action, vault tight lock-up, and easy lock release.  And the blade seating is dead center between the liners.  This knife comes to Windy City Knives via the original owner.  It is in near mint condition - perhaps a faint mark on the clip (depending upon the lighting).  Has the original edge.  Comes in a padded, zippered case.

Condition:  Previously owned
                  Never used or sharpened
•           Overall length:  8 1/2"
•           Blade length:    3 3/4"
•           Closed length:  4 3/4"