Gib Guignard, Cactus Forge, Stag Handled Bowie and Cowboy Sheath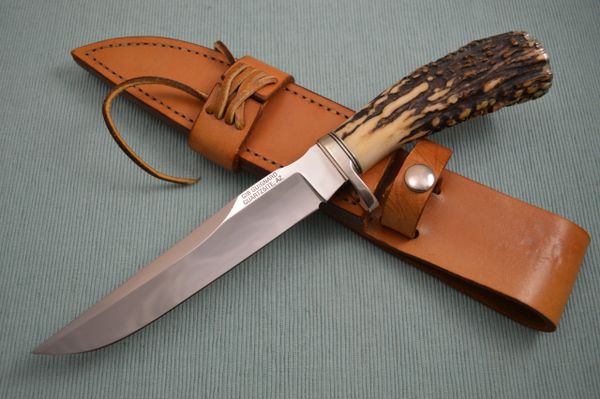 Gib Guignard, Cactus Forge, Stag Handled Bowie and Cowboy Sheath
Gib Guignard sold his first knife in 1990.  He became a full time maker in 1996.  Gib was known for his Neo Tribal, frontier knife designs that had a rustic look, but he also built some stainless steel knives from stock removal.  Those knives that he built by stock removal were typically under 7" long.  He did build larger knives by custom order, as is the Bowie offered for sale here on our website.  His knives were meant to cut and hold an edge.  The knife world lost this talented knifemaker in 2005.  His work has become more difficult to find in the secondary market, as collectors are holding on to his knives.
This beautiful bowie is made from ATS-34 steel heat treated by Paul Bos.  The blade is highly polished (and very reflective), with slight evidence of faint sheath marks.  The hidden tang is securely mounted in a gorgeous piece of gnarly stag, in perfect condition.  The single-finger guard and butt cap are nickel silver.  A couple of black spacers highlight the guard where it meets the stag.  The blade is marked "Gib Guignard Quartzsite, AZ", the place where Gib relocated to in 1988.  The knife feels great in the hand, and is nicely balanced.  The thick leather sheath is hand made by Gib with that rustic cowboy look he was known for.  It is an extremely thick and heavy piece of leather, highlighted with rawhide lace.
Condition: 
Previously owned. Excellent.
                    Never carried, used, or sharpened
Overall length: 11 1/2"

Blade length:     6 3/4"

Handle length:   4 3/4"