Harvey Dean, M.S. Stag HICKOK Bowie, Paul Long Leather Sheath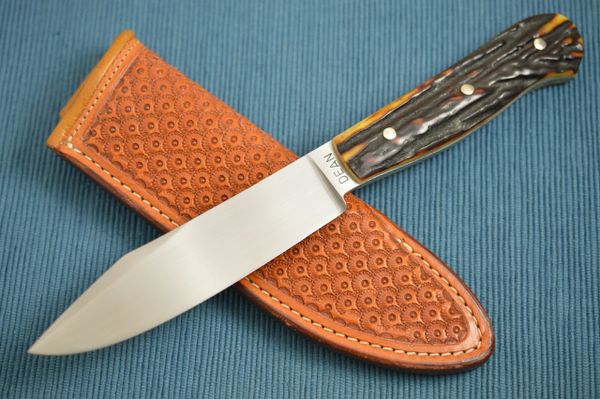 Harvey Dean, M.S. Stag HICKOK Bowie, Paul Long Leather Sheath
This is what Harvey Dean calls his Hickok Bowie.  I don't know how many Hickok Bowies he's made.  I have not been able to find another image of one, anywhere on the Internet.  Harvey was inspired to make the knife after a visit to Deadwood, South Dakota.  Deadwood was the brief home of their most famous resident, Wild Bill Hickok.  In fact, Wild Bill was murdered in Deadwood back in 1876.  Harvey is a master at making both fixed blade knives and folders.  He is consistently producing outstanding pieces that are highly coveted by collectors and users alike.  His grinds, and fit and finish are second to none.  To hold a Harvey Dean knife in your hand is the only way to truly appreciate the craftsmanship and balance.
Harvey forged the drop point blade from 1084 carbon steel, and built the knife of full tang construction.  The large pins are nickel silver.  The Hickok Bowie does not have a guard.  The handle is two nicely mated slabs of amber stag.  This knife feels great in your hand, and would make a great personal carry. 
The knife was acquired from the original owner, and is in excellent condition.  The knife is unused, and has never been sharpened.  However, on the "Dean" stamped side of the blade there are a couple of flea bite size shiny spots, presumably caused by touching the inside of the sheath.  They are impossible to photograph, and are only seen at the correct angle and lighting.  I am sure Harvey would buff these out if you want.  It includes a custom tooled leather pouch-type belt sheath made by Paul Long.  This is an outstanding example of Harvey's work.

Condition:  Previously owned, Excellent to near mint condition. 
                    Never carried, used or sharpened
Overall length:      9 1/2"

Blade length:         5 1/8"
Handle length:       4 3/8"