Jack Busfield Mother of Pearl Lock-Back Wharncliffe Folder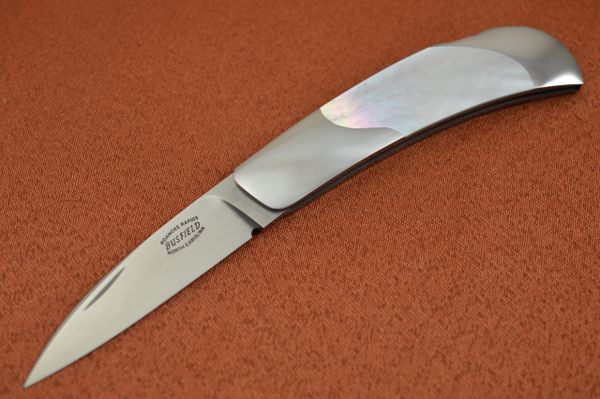 Jack Busfield Mother of Pearl Lock-Back Wharncliffe Folder
Jack Busfield first became interested in knives as a young boy.  His grandmother would buy him knives as souvenirs on the many trips they took together.  Jack made his first knife in 1964, a Bowie knife from a car spring, while stationed at Beale AFB in California.  Jack got serious about knife making in 1979 after reading an article about custom knives.  He purchased some equipment and taught himself to make knives.  Jack began attending knife shows in California, Phoenix and Las Vegas winning many awards for his workmanship and designs.  He sold his first knife in 1979.  In 1982 he joined the Knifemakers Guild.  Jack has won numerous awards throughout his career.  He does all his own work and design, including heat-treating, profiling, lapidary work, and photography.  Jack was a pioneer in the use of mineralized materials for inlays such as jade, agate, charoite, etc.  His knives are investment grade quality.  Jack no longer attends shows, nor does he take orders.
This lock-back gents folder features fiery Mother of Pearl inlays (that look much nicer in-hand than the photos) on both sides of the handle, ATS-34 stainless steel Wharncliffe-shaped blade, and 416 stainless front and rear bolsters.  There is more than ample room on the bolsters, should you wish to have them engraved.  The knife has a small nail nick, with a buttery smooth pull.  The blade locks up tight with no blade play or wobble in any direction, and the blade seating is centered in the frame when closed.  The is dated 05/92 inside the frame on the back of the lock.  Jack's knives are highly collectible.  It will come in a storage case or pouch.

Condition:  Previously owned.  Near mint.
                    Never used, carried or sharpened
Overall length:  5 1/8"

Blade length:    2 1/4"

Closed length:  3"