James Scroggs Model 6 "Hold The Mustard" Finish, Green Warwood Handle, Spec-Ops Sheath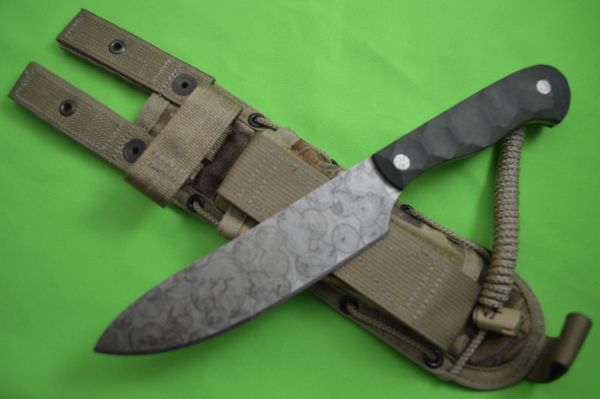 James Scroggs Model 6 "Hold The Mustard" Finish, Green Warwood Handle, Spec-Ops Sheath
This James Scroggs Model 6 is new, and comes direct from James' shop in Warrensburg, MO.  James is an accomplished fixed blade knifemaker, who made his first knife in 1985.  He produces his own designs.  He prefers to use high-end woods and materials for knife handles.  This knife features a 1080 tool steel blade, with James' own "Hold The Mustard" finish.  This blade steel is often referred to as 80CrV2 steel.  The handle scales are Green Warwood, secured with hammered pins.
James includes a high grade ballistic nylon Spec-Ops sheath with the knife.  No case.  Please note that I have intentionally NOT included photos of the knife in the sheath.  James has informed me that each time you insert and remove the knife from the sheath, you run the risk of scratching the "Hold The Mustard" finish.  I am going to let the proud new owner of the knife do this for the first time himself, or herself.

Condition:  New from the Maker
Overall length:   11 1/4"
Blade length:      6 1/4" (5 3/4" cutting edge)
Handle length:    5"