James Scroggs Small Skinner, American Black Walnut Handle, Boltaron Thermoplastic Sheath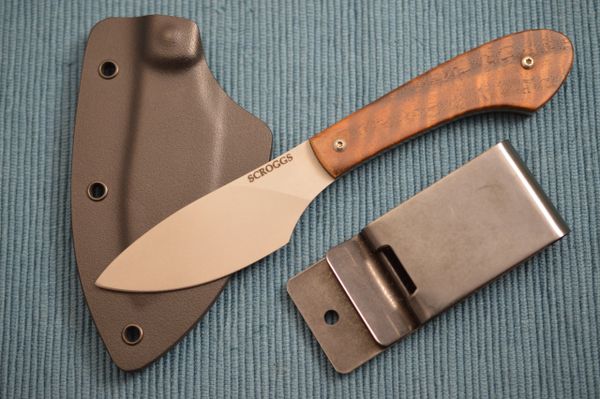 James Scroggs Small Skinner, American Black Walnut Handle, Boltaron Thermoplastic Sheath
This James Scroggs Small Skinner is new, and comes direct from James' shop in Warrensburg, MO.  James is an accomplished fixed blade knifemaker, who made his first knife in 1985.  He produces his own designs.  He prefers to use high-end woods and materials for knife handles.  This knife features a blasted CPM 154 stainless steel blade that reduces reflection and marring.  The handle scales are American Black Walnut, secured with 2-56 button head screws.
James includes a Boltaron Thermoplastic formed sheath with the knife, which includes a removable "Velcro" type spring clip.  Boltaron is often compared to Kydex, however it does have some advantages (e.g. thicker, more impact resistant, holds up better in cold temps, etc.) over Kydex and tends to cost more.  No case.


Condition:  New from the Maker
Overall length:   6 1/8"
Blade length:     3" (2 1/8" cutting edge)
Handle length:   3 1/8"