Jimmy Lile No Dot "SLY II" Rambo Survival Knife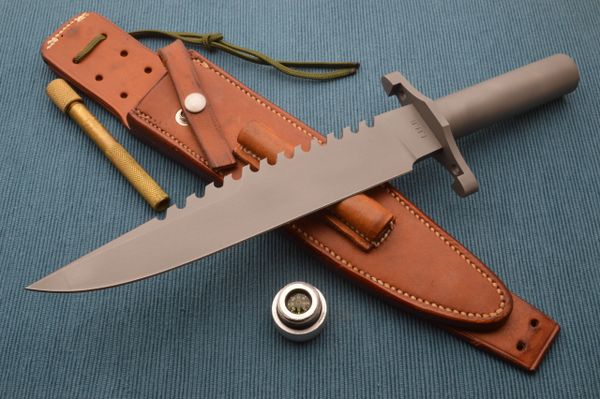 Jimmy Lile No Dot "SLY II" Rambo Survival Knife
It's not enough to say Jimmy Lile was a legend among knifemakers.  He made his mark on the custom knife world long before the Rambo movies made him famous.  But even more famous was the knife on which he and Sylvester Stallone had collaborated.  The knife would become the star of the great movie, Rambo, First Blood.  Jimmy and Sly went on to create a second star for the next movie in the series, Rambo, First Blood II, The Mission.  These two knives have enjoyed over 3 decades of fame as either model is still coveted in the knife collecting community. Original Rambo models made by Jimmy Lile are extremely rare.  Today, Lile Knives, LLC., is owned by John Hill of McKinney, Texas.  John's history with Jimmy and Marilyn Lile dates to the 1980's when Bob Rankin ran the Lile Knife Store in Dallas.  In those days, John sometimes traveled to shows with Bob Rankin selling the original First Blood movie knives.  John and Bob remain close friends today. In 2003, John co-authored a book on Jimmy Lile's knives and legacy, James B. Lile, The Arkansas Knifesmith.  After Jimmy's death in 1991, John kept his close friendship with Marilyn (Lile) Miller.  John later acquired the Lile tradename from Marilyn in order to produce Jimmy's movie knives at the highest quality level for those many collectors who never got the chance at one of Jimmy's originals due to Jimmy's life ending at the peak of his career.  John was motivated by two things; a desire to honor Jimmy and his collectors by producing the highest quality remakes of Jimmy's famous movie knives, keeping true to custom knifemaker standards, and to create a way for Marilyn to receive royalties for her many years of hard work.  Getting rich off this was never a prime motive. John owns a successful oil and gas business, among other investments, and this is a side venture.
This is an original "No Dot" Jimmy Lile SLY II Rambo Survival Knife.  It features a 9" blade of presumably D2 steel, with a bead blasted finish, and 12 saw teeth along the spine of the blade - 8 double split teeth and 4 single teeth.  The handle on this knife is one of the less often seen unwrapped hollow stainless-steel tubes.  The aluminum butt cap has a compass inserted inside the cap.  I believe the double lugged guard is bead blasted 416 stainless.  Included with the knife is the original brown leather Johnson Sheathery custom made leather sheath, with the original unused sharpening rod.  It will also come with a padded, zipper case.  The knife was previously owned and in excellent unused condition.  The sheath shows minor marks / wear from storage and handling.  The blade has a couple of very small specks and some very fine micro scratches from insertion and removal from the sheath.  The Sly II is a highly desirable piece and coveted by collectors.  They don't come up for sale too often, and when they do they sell quickly.  These original knives tend to stay in collections.  Now's your chance to get one of Jimmy's more sought-after models.

Condition:  Previously owned. Excellent.
                    Never used, carried, or sharpened.


Overall length:   14 1/4"
Blade length:      9"
Handle length:    5 1/4"