Joe Flournoy M.S. Stag Handle Bowie, Sterling Silver Fittings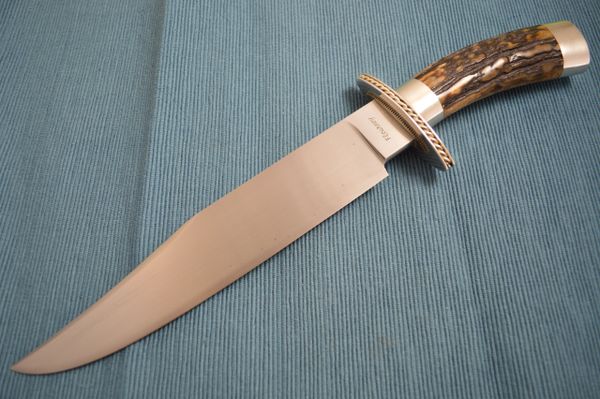 Joe Flournoy M.S. Stag Handle Bowie, Sterling Silver Fittings
Joe Flournoy earned his Mastersmith stamp from the American Bladesmith Society (ABS) in 1992.  He started making knives in 1977, and joined the Knifemakers' Guild in 1979.  He has won any number of major awards for his knives, including Best Forged Blade at the 1992 Blade Show, and in 1993 he received the coveted W. F. Moran Award.  In 1995 he won the Blade Show award for the Best Damascus.  After the bladesmithing school opened at the Bladesmith Shop in Historic Washington State Park, he was the first person to enroll in a class.  He was taught basic forging by none other than Bill Moran.
This knife is one of Joe's earlier M.S. Bowie knives.  It is a wonderful example of Joe's skill and talent.  It was a one owner knife before coming to Windy City Knives.  The blade was forged from 1084 high carbon steel, with a hand rubbed finish.  The top clip has been sharpened.  Despite being stored in a climate controlled safe, and coated with protective oil, the blade has developed some carbon pepper spots from age.  They are all on the surface, and cannot be felt with your fingernail.  The handle is two (2) nicely mated old Stag scales - this is the good stuff that is getting harder and harder to find - gnarly, with great color and texture.  Made of hidden tang construction, the stag scales are perfect - no chips, cracks or shrinkage.  Al the fittings - the double lug guard with wire inlay, collar and butt cap, are all Sterling Silver.  There is a bit of patina that has developed over time.  Sterling Silver will do that.  It is more evident in the nooks and crannies of the silver work.  There is no sheath.  The knie will come shipped in a padded, zippered case. 
Condition: 
Previously owned, Very good.
                    Never carried, used or sharpened
Overall length:       14"

Blade length:           9"
Handle length:         5"