Joe Olson "Apocalypse" Interframe Folder, Damascus, Abalone, Ruby Thumbstud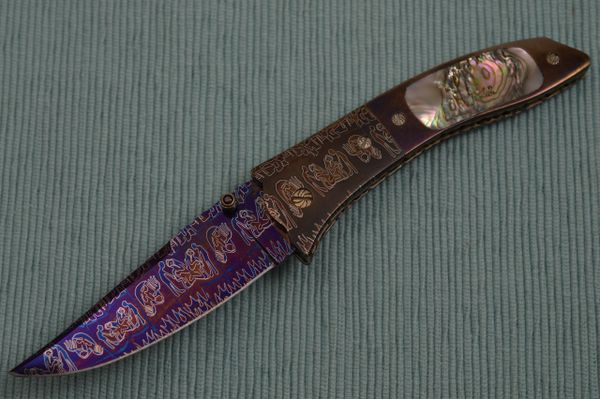 Joe Olson "Apocalypse" Interframe Folder, Damascus, Abalone, Ruby Thumbstud
All of Joe Olson's knives are sole authorship. Each knife is unique, and tells a story through the art he incorporates into it. Joe was an art major, and has taught art. His knives clearly demonstrate his talent and knowledge. Joe took a hiatus from knife making in 2013 / 2014, and has not yet returned. His knives are hard to come by, and highly sought after. The rarity of his work make them true collector pieces.
This is Joe's "Apocalypse" Interframe manual folding knife. This liner-locking knife is a classic example of the quality of his work. The trailing point blade is Hot Blued Joe Olson Apocalypse Damascus, the bolster is also Joe Olson Apocalypse Damascus, the handle is Blued Mild Steel with some of the nicest Natural Abalone Inlays on both sides of the handle, heat colored 15N20 liners, and a Ruby inlay on the thumbstud. The fileworked backspacer features Joe's trademark pierced vine style, and the liners and blade spine are fileworked, as well. Even the screws and pivot screw are all fileworked. This is the total package from Joe. A true work of art!
Joe places his last name on the inside of the backspacer. The knife opens smoothly with the thumbstud, and locks up tight, and there is no lock-stick when releasing the blade. The blade sits centered between the liners. Absolutely a gorgeous piece for any collector. Comes in a padded, zippered case.

Condition: Previously owned. Mint condition.
Never used, carried or sharpened
Overall length: 7 1/8"

Blade length: 3 1/4"

Closed length: 3 7/8"