John Gray SPLITTER Variant Frame-Lock Flipper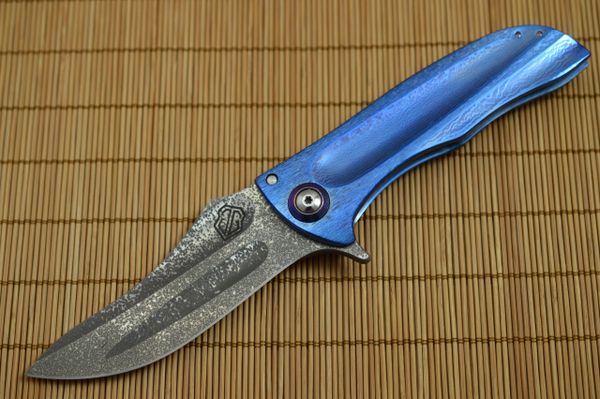 John Gray SPLITTER Variant Frame-Lock Flipper
This John Gray Splitter Variant, frame-lock flipper, features a Nitro V blade with John's Dark Rain finish.  The blade is chisel ground, with two deep fullers on the presentation side and a highly polished cutting edge on the lock side.  The blade has a Rockwell Hardness of 60 RC.  The frame is titanium, done mostly in John's signature Tree Bark finish, except for the grooves opposite facing the fuller of the blade that are done with an Orange Peel finish.  The knife has a great "balanced" look on the presentation side when fully opened.  John does sweat the details, as well as the overall aesthetics of the knife.  The matching pivot collars and contoured tip-up pocket clip really complete the package.  There are also two matching barrel-type standoffs.
John makes his knives by hand.  His knives are clean, ergonomic and built for use.  The finished product truly reflects his passion, talent and workmanship.  To use John's terms, they are "Overbuilt, Practical And Tactical".  This knife was previously owned.  It is in excellent, unused, mint condition.  The blade runs on bearings, and flips smoothly and effortlessly.  The detent is excellent, the lock-up is early and secure, and the chisel ground blade sits perfectly in the frame.  Comes with a COA signed by John, business card signed by John, and a Paper Stax Project booklet, all neatly packaged in a padded zipper case.
Condition:  Previously owned.  Mint Condition.
                  Never used, carried or sharpened.
Overall length:  7 7/8"




Blade length:    3 1/2"




Closed length:  4 3/8"