Kevin Hoffman Hollow Handle Survival Dagger, Kydex Sheath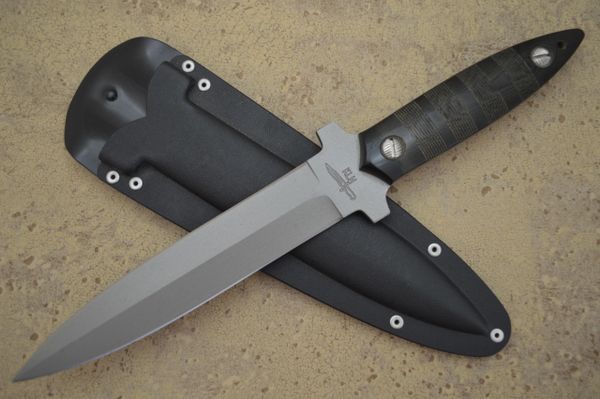 Kevin Hoffman Hollow Handle Survival Dagger, Kydex Sheath
This is Kevin Hoffman's "Hollow Handle Survival Dagger".  The blade is made from ATS-34 stainless steel, with a non-reflective bead blasted finish.  The blade is sharpened for about 6 ½" on both top and bottom.  The handle is black linen micarta, with carved "lines" on either side for enhanced grip and control of the knife.  The handle is hollow and can be opened with a flat head screwdriver.  It is perfect for storing emergency survival necessities.  In fact, Kevin has started you off with fishing line, a hook, weights and a swivel.  There is also a small shallow hole cut into the Micarta on one side, that lines-up with a small, raised button on the custom Kydex sheath.  Just another means of securing the knife in the sheath.  The Kydex sheath has a rigid belt loop.  This knife was acquired directly from Kevin at a Blade Show several years ago and was recently acquired from the original owner, having been in his safe for all these years.  It is in excellent condition, with the slightest evidence of Kydex marks on the blade from insertion into the sheath.  Kevin's "KLH" and fixed blade knife logo appear on one side of the blade, and the outline of the state of Florida is on the other side.  A great tactical survival piece!
There is no padded, zippered pouch included with the knife and sheath.  

Condition:  Previously owned. Excellent.
                    Never used, carried or sharpened
Overall length:   12 3/4"
Blade length:      7 1/4" (6 1/2" cutting edge)
Handle length:    5"