Kingdom Armory Custom ROOK #1 Folding Knife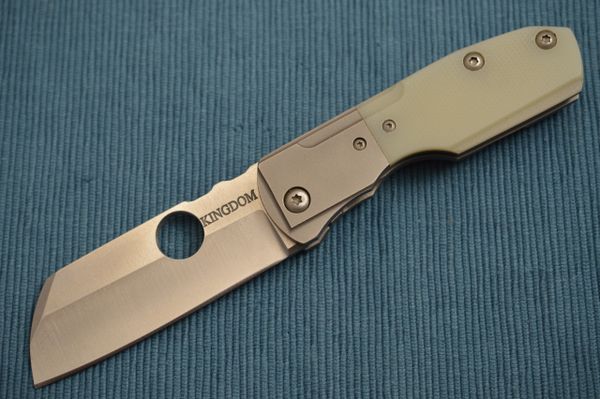 Kingdom Armory Custom ROOK #1 Folding Knife
From the Kingdom Armory website:
2018 will mark the 10 year anniversary of beginning this adventure and becoming a full time knife maker. For some reason, I've always strived to fly under the radar and quietly grind away.  Happy to do something I love and support my family with it.  Taking a passion to work and create with your hands, and making that into a career is an intensely personal journey.  If I'm honest though, it has been a saving grace in my life as I've struggled to overcome life's tragedies and set-backs.  Like an oak cask to whiskey however, this process has both refined and distilled me as a person and as an artist.  A full decade later, I am humbled by all the support and recognition from those who have found me and purchased a piece of my life's work.  I'm built up by the process of being able to build, and that wouldn't be possible without such a loyal customer base and trusting dealers.  My family and I thank you all!
Kingdom Armory Knives are designed by David M. Rydbom of Ashland, Oregon.  This custom frame-lock Rook, named after the chess piece, is marked with the serial number 1 on the flat of the lock side of the blade.  The Rook is the perfect size knife for everyday carry.  The knife was specifically designed to be opened with the middle finger.  You can obviously also open it with your thumb, or any other finger you feel comfortable using.  The cleaver-shaped or Sheepsfoot blade is made of CPM D2 tool steel, heated treated by Paul Bos, and hollow ground with a full stonewashed finish.  There's a bit of file-work on the blade spine.  The handle on the presentation side is Jade Green G10, with a milled titanium bolster over the full titanium frame.  The knife also features a titanium backspacer and titanium pocket clip set for tip-up carry.   The blade runs on bronze washers.  The fit, finish, and overall quality is outstanding!  The lock up is tight with no blade play, and the blade is well-seated in the frame.  Comes in a waterproof Kingdom Armory hard plastic clamshell case, signed by David Rydbom.
Condition:   Previously owned.  Excellent.

                    Never used, carried, or sharpened.

Overall length:  7 1/2"
Blade length:    3 1/2"
Closed length:  4"